91-Year-Old Police Officer who has Served for 56 Years Says he Won't Retire until God Approves it
– Despite being close to a 100-years-old, LC 'Buckshot' Smith has said that he does not plan on being a retired police officer soon
– Smith added that his love for the job has not waned even after serving for 56 years with 'momentary' retirement
– Co-workers have described the man as a dedicated officer who would not allow anything take him off his duty
A 91-year-old police officer, LC 'Buckshot' Smith has said that he has no plan of retiring just yet despite being in service for 56 years.
With his 92nd birthday happening in May, the man revealed that he is going to retire only when "the good Lord says so", CNN reports.
During his over five decades of service in Arkansas, the man was a sheriff deputy most of the time. It should be noted that Smith initially retired but came back to join the force after missing the action.
The man disclosed that when he joined the force in the 1960's, he did because he so much loves the excitement that comes with the job.
In an interview with the BBC, the man stated that he feels he will live longer and that is why he keeps working.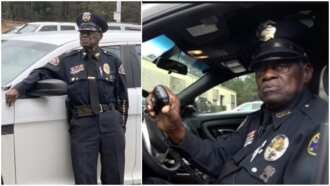 Smith said he is very much passionate about his job. Photos sources: BBC, CNN
His training superior, Texann Shadden, said that Smith is an officer that puts much dedication into his work. The man recalled how the officer once walked to the office because he could not get his vehicle out of the snow.
The man has served very well as a court bailiff, neighborhood watchman, and the person who influenced the annual festival in Camden. Shadden said that the man's wealth of experience is gold to the police.
It was gathered that when Smith is not being an officer and keeping the peace, he attends church services and spends some quality time with his female friend.
RSS: https://www.music-wap.com/feeds/posts/default?alt=rss