Woman Transfers her Salary to Husband, Buys Household things with it, her Act Stirs Reactions from Nigerians
– A Nigerian woman has said that her husband was very surprised when she transferred almost all her salary to him
– The wife added that contributing her monthly income towards the family's needs makes her realise how much her husband does
– Many people praised the wife's effort, saying that not all women are supportive of their partners
A Nigerian woman with the Twitter handle @jagzangel on Friday, April 2, generated massive reactions on social media after revealing what she did immediately she got her salary.
The woman in a long thread said that she rushed to her husband and asked for his needs as soon as the alert came in.
@jagzangel said that her husband thought she was joking and called out a figure that almost ate up the woman's monthly income.
Without hesitation, the woman transferred the sum, an act that took the man by surprise. She revealed that after that, she also went ahead to pay their children's lesson fees.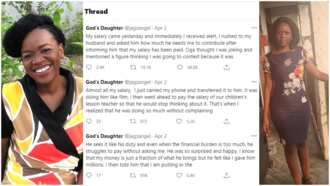 Many people have praised her for the act. Photo source: @jagzangel
After carrying out all those duties, the wife realised what her husband how much of a financial burden running the home has been for him.
She said:
"He sees it like his duty and even when the financial burden is too much, he struggles to pay without asking me. He was so surprised and happy, I know that my money is just a fraction of what he brings but he felt like I gave him millions."
The woman, therefore, prayed to God to keep blessing her so that she can always lessen his burden as a supporter that she is meant to be in her marriage.
See her post below:
My salary came yesterday and immediately I received alert, I rushed to my husband and asked him how much he needs me to contribute after informing him that my salary has been paid. Oga thought I was joking and mentioned a figure thinking I was going to contest because it was

— God's Daughter (@jagzangel) April 2, 2021
@kennysaosi said:
"Hmm I'm just havin mixed feelings right now,i literally neds lik10k to balance my sons schol fee and I'm seeing like 100k in my wife's ac and she can't even spare dat amount to help out. I've been reminded dis evenin no foodstuf again,pay d 2k I'm oweing her kai my head Wan burst."
@TheGodfathee said:
"Feminists are not seeing this tweet."
@aristodsavage said:
"God will bless you. You over did well. Now people that talk about men hitting their wives, why would a man ever raise hands and disrespect such a woman. Thank you for sharing this positive light about marriage so all these ndi woke can see how a happy home is built."
@Maeri_jean said:
"After reading thing I transfered half of my salary to my hubby… He's still in shock!"
RSS: https://www.music-wap.com/feeds/posts/default?alt=rss