17-Year-Old Girl Still in Nigerian Prison 165 days after She Was Arrested by the Police for Arson, Many React
– Nigerians are seeking the immediate release of a 17-year-old girl who has been languishing in a Nigeria prison for the past 165 days
– The minor identified as Kemi Ogunniye was reportedly arrested on Saturday, October 24, 2020 and charged with arson
– However, it was said that Kemi was on her way to get medications for her sick mother
Nigerians have started an online campaign to seek the immediate release of a minor who according to them was unjustly arrested and detained.
According to a Twitter user @ifemosumichael, 17-year-old Kemi Ogunniye was arrested by men of the Nigerian police and was allegedly unjustly charged for arson and burning of the APC flag in Ondo state during the End SARS protest.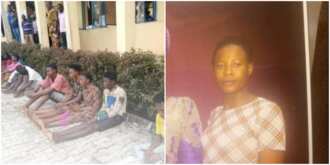 Nigerians launch campaign for the release of minor who has been behind bars for 165 days Photo Credit: @ifemosumichael
The arrest was said to be made on Saturday, October 24, 2020 when in actuality she was on her way to get medications for her sick mother, @ifemosumichael reads.
Making use of the hashtag #FreeKemiNow, he attached photos of the minor and appealed to other Nigerians to join in appealing for the release of the girl who has spent 163 days behind bar and counting.
17yr old Kemisola Ogunniye has been in detention since 24/10/20, she was arrested by @PoliceNG on her way to get medications for her sick mother. She was charged for arson, falsely accused of burning @OfficialAPCNg in Akure during #Endsars protest. Please RT widely. #FreeKemiNow pic.twitter.com/FVRG5pIAQA

— Ifemosu Michael Adewale ✊💡❤🦍 (@ifemosumichael) April 3, 2021
His appeal was overwhelmed with support from other tweeps who bought into the cause, others knocked the police authorities for carrying out the illegality of detaining a minor.
@9jaFreeman said:
"Keeping a minor in detention for this long is an abuse of authority the officers of @PoliceNG in that zone should be arrested and prosecuted."
@cokoisu reacted:
"Our justice system is designed to subjugate the innocent.
"Cos tell me the reason why this young lady with no concrete proof of her crime and without being given a fair hearing still in prison after six months of her arrest!! @PoliceNG"
@Arielsyy commented:
"They keep their fellow humans in cage like animals. We are our own demons."
@wallaceonas wrote:
"That is what the @PoliceNG is best at… Wrongful accusations. She is the prison all because she could not bribe her way to freedom."
A Nigerian journalist, David Hundeyin, on Sunday, March 14, 2021 shared how the life of the 23-year-old trader, Itunu Olajumoke Babalola, took a horrible turn.
David disclosed that in 2019, the lady had to travel all the way from Cote d'Ivoire to Ibadan in Nigeria to visit her ailing mother.
Before she travelled, the lady items worth thousands of naira were stolen. After reporting the case to the police in the country, she never allowed the incident to stop her from seeing her mother.
RSS: https://www.music-wap.com/feeds/posts/default?alt=rss