Cement is too Expensive: Nigerian Man who Built House with Plastic Bottles Finally Speaks in Viral Video
– A Nigerian man, Ahmed Yahaya, said he built a house made with plastic bottles as a way to reduce waste dumps
– The builder also revealed that the structure gives cool temperature as plastics are very bad conductors of heat
– To source materials, the man had to go to places like eateries where plastics are mostly used
A civil engineer, Ahmed Yahaya, who became popular after using thousands of bottles to build a house has spoken more about what influenced his decision to go through with that kind of recycling.
In a BBC News Pidgin interview, the man said he used pet bottles to design the house in an African round shape, such that there are three rooms that could be used for different purposes.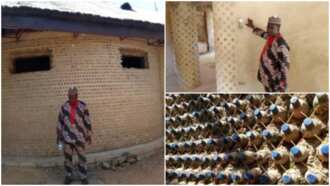 Ahmed said the cost of the building is cheap as he encouraged people to consider it. Photo source: @officialAHCN
The civil engineer stated that the discarded bottles are gathered from different dumps in Kaduna. He added that during the collection, nobody took them seriously, asking why they were busy collecting waste around.
Ahmed disclosed that what they set out on drew so much attention that people wanted to really see how it would turn out.
He said building the house was very cost-effective when compared to the ones made with cement. Explaining the advantage of the house, he revealed that the temperature is cooler inside.
According to him, there is no need for AC when living in that kind of structure, adding that it saves more on energy cost.
Ahmed added that modern structures can be done with the same material and not just like the one he built. The builder said the introduction would go a long way in tackling the waste problem Kaduna state is facing.
braidsandcrochetlocs said:
"This is a great way of conserving energy, reducing waste , and recycling."
affibassey said:
"Awesome innovation, brilliant. Government and private sector should look into how they can ensure its durability and tap into this innovation."
wendy_e__ said:
"This na source of employment and waste reduction for we country o..make them continue the good work e make sense die."
captainbrainiac said:
"Lemme first get land then it will be over for you people!!"
RSS: https://www.music-wap.com/feeds/posts/default?alt=rss