We Argue a lot: Davido's Lawyer Bobo Ajuda Explains why Chioma Blocked him online
– Davido's lawyer Bobo Ajuda recently described Chioma as a sister
– The father of one said this while answering a question about her on IG
– Bobo stated that he doesn't know why the singer's fiancee blocked him online
Davido's lawyer Bobo Ajuda has shared an insight into what happened to his relationship with the singer's fiancee Chioma.
Ajuda hosted a question-and-answer session on his Instagram and encouraged his followers to ask him anything.
A follower asked Ajuda why Davido's Chioma blocked him on social media and he noted that she has blocked him two to three times likes that before.
Davido's lawyer explained why Chioma blocked him. Photos: @thechefchi, @prince_ii
He said:
"She's blocked me before like 2 to 3 times. We argue a lot but I come with brother/sister relationship. She's legit like a sister to me (when we are not fighting). This particular one, I'm not sure. Let's hope I find out soon.
"The funny thing is whenever we fight and I report to David, he's like 'I beg you people shouldn't involve me in your wahala. Sha find way settle am, she's your younger sister."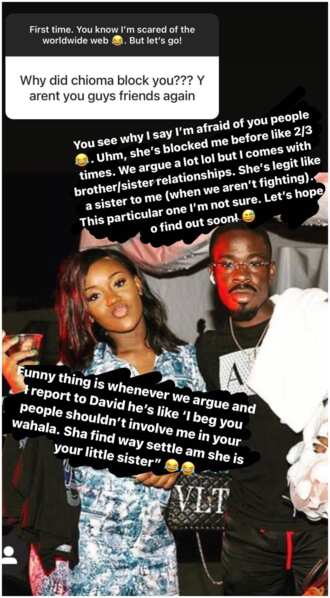 Davido's lawyer answers a fan's question on why Chioma blocked him. Photo: @prince_ii
In a lengthy video shared on her social media platforms, Okoro said she did not understand the backlash Davido was getting on social media.
She started out by addressing those seeking justice for Chioma and said that the singer did absolutely nothing wrong to his baby mama. According to her, the young lady knew exactly who Davido was before deciding to date him.
Blessing said there were other women who suffered what Chioma is currently suffering and she should not have expected to be treated specially.
RSS: https://www.music-wap.com/feeds/posts/default?alt=rss