Social Media Reacts to Viral Video of Passengers Fanning Themselves with Papers on a Nigerian Plane
– Hilarious reactions have greeted a clip that happened in a Nigerian aeroplane
– The clip which is making the rounds showed the moment passengers used papers to fan themselves while the aeroplane was in motion
– Many passed funny comments over the video, with others frowning at the development
An emerging video taken in an aeroplane has sparked massive reactions on social media, obviously due to its unusual nature.
In the clip shared on Twitter by @joeycrazype0ple, passengers aboard a Nigerian flight resorted to using papers to fan themselves, a practice that is not commonplace in aeroplanes.
If I ever fly Airpeace again let me die pic.twitter.com/X6PiMwcfa8

— Sir Mixalot (@joeycrazype0ple) April 8, 2021
As of the time of making this report, the viral clip had got over 254k views and over 11k likes.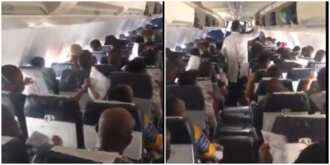 Reactions trail viral clip of passengers fanning themselves in a plane Photo Credit: Screen grabs from video shared by @joeycrazype0ple
A Twitter user @Daddy_Nomso reacting to the video said:
"Imagine someone now drop hot silent Mess, Kukuma spoil the Airways & the Airflow in the Plane come shout "Who dey Breatheeee"
@shw_ein reacted:
"Normally air-conditioning systems are turned off in planes during refuelling because its either both engines are turned off or one is. I think as soon as the refuelling is done, the air-conditioning systems will be turned back on…"
@Otoyosam replied @shw_ein saying:
"Please sir, this excuse you are making, are they supposed to be fueling the plane with passengers inside?"
@evansylvia commented:
"Suffer head dey too much for dis country. I was in a First Bank today, no AC no fan. Customers dey sweat like goat, tellers too dey sweat. I went from being angry to feeling pity for all of us."
The video was shared by a Nigerian man identified as Victor Ehikhamenor on Twitter. Due to the oddity of it all, the video generated quite a number of reactions from people who found it hilarious.
Victor wrote:
"If you think you can skip church just because you nor dey naija and you dey for inside plane, you never ready. Welcome to a full service by a Nigerian "aviation pastor". It is well!"
RSS: https://www.music-wap.com/feeds/posts/default?alt=rss