5 Interesting Mineral Resources in Nigeria and States Where They are Located
Solid mineral resources in Nigeria sits at 34 and they are scattered in 450 locations across the country, Research Gate posits.
No doubt, the country is endowed and Music-wap.com , in this article, highlights 5 interesting resources and where they are situated.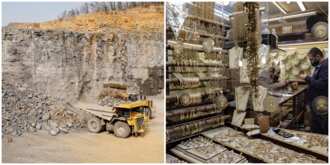 Gold is found in 10 Nigerian states including FCT Photo Credit: Francesca Volpi, Uwe Anspach
1. Gold
Gold is an essential mineral resource Nigeria is blessed with due to its high value. It is however not exploited on a large scale in the country, according to Hintng.
The priced resource is found in 9 states namely Kebbi, Kaduna, Zamfara, Sokoto, Oyo, Niger, Kwara, Edo, Bauchi, Ebonyi and Abuja.
2. Iron Ore
Iron Ore is another large resource with about 3 billion metric tonnes said to be in the country. It can be found in states as Enugu, Niger and the FCT. It is largely found in Itakpe, Kogi.
3. Gypsum
Gypsum is a great resource when it comes to building construction. It is important in the production of plaster of Paris (POP), cement, chalk and other products.
It can be found in Kogi, Gombe, Delta, Edo and a few others. There are about 1 billion tonnes of gypsum deposits across the country.
4. Lead/Zinc
Lead is located in states as Benue, Cross River, Ebonyi, Enugu, Kano, Niger, Abuja, Akwa Ibom, Anambra, Bayelsa, Abia, Taraba and Plateau.
There are about 10 million tonnes of zinc across the country.
5. Gemstones
Found in states as Bauchi, Plateau and Kaduna, gemstones are one of the valued resources in the country. Available gemstones in the country include aquamarine, sapphire, ruby, emerald, topaz, garnet, zircon and so forth.
Oil provides the lion's share of country's income. Nigeria has tin ore, natural gas and other minerals. The main part of the citizens engaged in agriculture. The country does not provide itself with food.
There are factories for processing oil, timber, agricultural products, auto-assembly shop, enterprises for consumer goods production, but not all of these industrial facilities work efficiently.
RSS: https://www.music-wap.com/feeds/posts/default?alt=rss