Funny story of how Didier Drogba wanted to 'end' Chelsea team mate for harsh tackle in training
– Didier Drogba almost had a serious fallout with Ben Haim according to Steve Sidwell
– The trio were part of the Chelsea squad during Jose Mourinho's first spell as Blues' manager
– Sidwell recounted how Drogba almost 'killed' Ben Haim after a dangerous tackle
Former Chelsea star Steve Sidwell has emerged with details of what transpired during a training session while he played at Premier League club, Chelsea.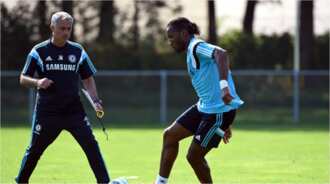 Drogba was left fuming at his former team mate at Chelsea Steve Sidwell over a tackle. Darren Walsh
Sidwell was part of the Blues' squad of the 2007/2008 session during the first spell of Jose Mourinho as the manager of the London club.
It was gathered that striker Didier Drogba had wanted to 'kill' Tal Ben Haim after a dangerous tackle in training – and Jose Mourinho loved it.
Mourinho who is now in charge at Tottenham saw his side lose 1-0 to his former club in the Premier League on Thursday night, January 4.
During the encounter, Sidwell who was a member of the BT Sport panel explained why he thinks Jose Mourinho is so good.
He took time to shed light on what Mourinho's sharp response was to the Ivory Coast icon's outburst.
Sidwell said via SunSport:
"There were leaders. Terry, Lampard, Essien, Drogba, Ballack – there were leaders in there.
"In training, people were smashing the hell out of each other. I remember Essien snapping Shevchenko in half.
"Tal Ben Haim going through Drogba, Drogba getting up saying, 'I want to kill him'. Mourinho saying, 'I need him on Saturday, you can kill him next week'."
He added:
"But he (Mourinho) loved that, I think he thrived off that, and I don't think he's getting that at the moment at Tottenham."
And after losing his third straight game, the Spurs are now languishing in eighth position on the table which leaves their title contention in limbo.
And this has begun to put pressure on the 57-year-old tactician who started the season with a lot of promises having stayed at the top of the log for a couple of weeks before their performances nosedived.
Jose Mourinho enjoyed success with Drogba at Chelsea but the former Blues boss was initially questioned by the Chelsea hierarchy why he wanted to sign the Ivorian.
The Portuguese tactician who was in charge of Porto in 2003 when he first met the Ivorian claimed that Chelsea chiefs raised concerns as regards why he opted to sign the Ivorian.
Mourinho also narrated what he saw in the player that prompted him to make a move while he played for French club Marseille.
The pair married on June 12, 2011, in Monaco in the presence of selected guests, but player claims they have separated after 20 years of togetherness.
Although he did not explain reasons for their separation, the two-time Africa Player of the Year Award recipient, however, noted that it was a difficult decision.
RSS: https://www.music-wap.com/feeds/posts/default?alt=rss