Davido Shows off heavy Diamond Jewelries, Female Bag Days after Burna Boy Flaunted his
– Singer Davido recently stepped out and he shared photos on social media
– The father of three was spotted in lovely neck chains and a black bag
– Davido posed for the camera with his eyes slightly peeking out of the bucket cap he wore
Nigerian singer Davido has taken to his Instagram story to share lovely new photos. The singer was spotted in a blue flowered shirt and black trousers. He wore a black bucket cap to match.
However, there were more things to note about the singer's outfit as he calmly posed with his eyes peeking out of the cap for the camera.
As usual, Davido's neck was donned with huge diamond chains. The father of three is known to be a lover of pieces of jewelry as he travels abroad to buy as many as he wants.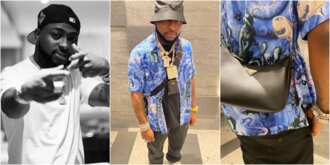 Davido flaunts his pieces of jewelry and female bag. Photos: @davido
The Jowo crooner also had a cross bag across his shoulder. When he turned his back to the camera, one could see that the bag looked like that of a female.
Davido shared the photos just a few days after singer Burna Boy shared a photo of himself carrying a lemon female bag.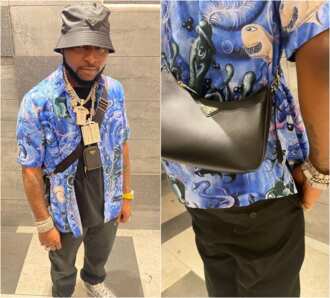 Davido shares photos of his pieces of jewelry and his female bag. Photos: @davido
A video making the rounds in the online community captured the moment Pasuma was thrilling the audience with his music and was joined on stage by Davido.
An excited Davido rained crisp N1000 notes on the musician as he sang his praises and hailed him repeatedly.
Gospel musician, Yinka Ayefele, was also spotted on stage with the singers. He was seen spraying a dancing Davido as Pasuma continued to excite the audience with his fuji sound.
RSS: https://www.music-wap.com/feeds/posts/default?alt=rss