Nigerian Man Married to 7 Wives Shows Off Huge Lengthy Yam Barns, Video Stuns the Internet, Many React
– A Nigerian man has caused a commotion on social media as a video of his large yam barns emerged
– The man identified as Chief Goddey Ehiwarior said he has been building the yam barns for over 40 years
– In the trending video, the yam barns stretches several miles as many expressed awe at the sight
An emerging video of a Nigerian man's yam barns has gained huge traction on social media.
The big farmer named Chief Goddey Ehiwarior, in an Instagram video by gossipboyz1 took the video recorder the full length of one of his yam barns.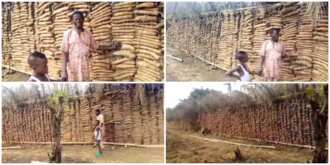 Chief Goddey of Delta state has been building his yam barns for the past 45 years Photo Credit: Screen grabs from video shared by @gossipboyz1
Goddey who married seven wives and has many children said that he has been cultivating yams for the past 45 years.
The Delta state indigene – a native of Amahia, Alihagwu, Agbor – with the help of his family and workers now owns yam barns that stretches several miles and can comfortably make a fence round a building.
Goddey is also said to be engaged in farming of other food crops namely okra, pepper, cassava and palm-oil. The polygamous man does livestock farming too.
The viral clip stirred massive reactions among Nigerians as many marvelled at how rich he is in food, many others praised him for his hardwork.
@validtilldate remarked:
"If this is only his yearly harvest then he didn't go quarter of my father's yam, this is very very small compare to my father's own and besides the yam is not big look at the small sizes."
@foodbytener said:
"Very inspiring.May our hard work pay some day soon."
@_mazi_brian_holmes wrote:
"See what 45yrs of effort can bring one man, now imagine if Nigeria used it's resources properly for 61yrs….it's quite sad."
In a post on Facebook, the excited man explained that the yams grew naturally without fertiliser or any other additive.
According to him:
"I harvested these yams at my backyard last week in Benin. I decided to plant them during the lockdown due to boredom but it turned out to be a bountiful harvest.
"No fertilizer, no additives; I just dug and planted. God is great! Nigeria's land is blessed."
RSS: https://www.music-wap.com/feeds/posts/default?alt=rss