Life is Not Fun Fare, it is Warfare: Rita Edochie Finally Reacts to Ada Jesus' Death, Fans Condemn Her
– Veteran Nollywood actress, Rita Edochie, recently faced criticism on social media after the death of young comedienne, Ada Jesus
– Ada Jesus passed away after battling a kidney ailment
– Edochie had also rained heavy curses on the comedienne when she was down with the sickness for spreading rumours about her
– Reacting to fresh criticisms, the actress noted that God has made her a strong woman and she will remain so
Popular Nigerian actress, Rita Edochie, is currently facing heat on social media following the death of controversial comedienne, Ada Jesus.
The veteran movie star has now taken to her social media page to react to the sad news despite the backlash she received from Nigerians.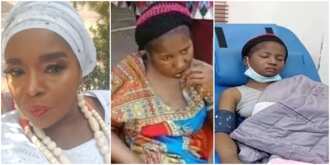 Nollywood actress Rita Edochie has finally reacted to Ada Jesus' death. Photos: @ritaedochie, Ada Jesus
Many Nigerians started to point accusing fingers at Edochie after Ada Jesus finally gave up the ghost.
In reaction, the actress shared a five-minute sermon video where a Winners Chapel pastor preached about the importance of prayer because life is warfare and not fun fare. According to the pastor in the video, 'only the violent taketh it' because violence is the key for triumphant living.
In the caption of the post, Edochie said that God made her a strong woman and she will remain that way.
In her words:
"JEEEEESUS is LORD forever. LORD ALMIGHTY MADE ME A STRONG WOMAN AND THAT I WILL REMAIN. THE SEED CAN NOT BE KILLED"
See below:
In another post, the movie star shared a viral video of Kanye West rapping his popular Jesus Walks track onboard a plane. Some of the lyrics included the rapper asking God to show him the way because the devil was trying to bring him down.
See the post below:
In no time, both posts gathered reactions from Nigerians and many of them were attacks against the actress. While a few people said her actions should not be judged, others blamed her for Ada Jesus' death.
Read what some of them had to say below:
Don_aisosa:
"May the soul of ADA JESUS REST IN PEACE ✌️ Amen A minute of silence."
Real_uj234765:
"Madam Ada has slept.. And u are awake…."
Vanlinavannie:
"Rita? Do you even believe in the Almighty God and his last day? A real believer doesn't wish evil for his or her fellow human beings. Not talking about being evil or thinking that you are the givers and takers of life. You were boasting saying that your last child is a lawyer, but your deeds couldn't permit a young child to boast of her life. Judgment starts on earth and everyone shall get their results on earth. The stigma has just started!"
Iam_thelmaoti:
"Pls guys, let God be the judge pls and pls. No1 this woman is not our mate to be insulted on her own page this way. No2 she finally forgave Ada and that's most important. No3 God is aware of what happened so pls guys stop the insult and allow the little girl Rest In Peace. This has taught me a lesson and I know it has taught everyone a lesson too. I pray God give everyone forgiving spirit becos it's not easy to forgive when someone hurt u. God knows our hearts so pls leave mama. I hope u understand guys,,, peace."
Omo.oluwa:
"I just watched the video where u said Ada will never give survive the sickness. Nigerians let's call for the arrest of Rita"
Cabralbarbie_2016:
"Ekwensu!!!! You killed that girl!!! You are not a mother and you will suffer!"
Nawa o.
In other related news, Music-wap.com earlier reported that just soon after Rita Edochie claimed to forgive Ada Jesus, she took to social media to curse those still dragging her over the issue
In a post which she shared on her Instagram page, the actress in an angry tone said that people who are fine with the havoc Ada Jesus wrecked on her family will have the same fate befall them and their entire generation.
RSS: https://www.music-wap.com/feeds/posts/default?alt=rss