Photos of 20-Year-Old Female Student who Hustles as Labourer Generates Mixed Reactions on Social Media
– Jennifer Efemonghe has become an internet sensation after photos of her working at a construction site emerged on social media
– The 20-year-old told Music-wap.com that she hustles as a labourer to be able to meet her bills herself
– Despite being mocked by her friends, she demonstrated that there is dignity in labour
Young Jennifer Efemonghe meets her financial obligations as a student with money she makes from working at a construction site.
The 20-year-old who recently vent viral on Facebook after Music-wap.com captured her activity as a labourer has been celebrated on social media.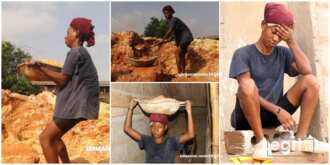 Jennifer said she didn't want to always worry her parents with he financial needs
The trending photos highlighted how she worked hard at a construction site dominated by men.
The 20-year-old undergraduate of the University of Benin told Music-wap.com that she din't want to pester her parents with her monetary needs and wanted to make ends meet for herself.
In her words:
"This (the construction site) is where I run to for my own urgent 2k."
The 200-level student who was initially embarrassed coupled with being mocked by her friends eventually embraced her hustle.
Social media users took to the comment section to commend her efforts, others prayed for her.
Matt Olaitan Maxii said:
"Some people go through the worse, I went through hell and I still got the scars in reality. Can u imagine working at the steel rolling to pay tuition fee, that's what i called hell."
Promise Abel wrote:
"We're all involved in our hustles hoping for a breakthrough, if being on the spotlight is going to be the path to her breakthrough, then wish her well and continue praying for your own success…"
Engr Dickson Dan Ebos remarked:
"That's life. I went through all that to Carter through out my institution..my waist nearly break. But today my story is different.. Well seeing a lady doing this kind of hard job instead of sleeping around indeed I commend her.."
In a Twitter post she made on Friday, March 26, @02franx shared pictures of herself with a head pan and flanked by male labour workers at a construction site. She captioned it:
"Aside being a student.."
To show she wasn't fake as well as to prove those who doubted her wrong, she released a video – in a subsequent tweet – of her carrying a block of cement in a construction site.
RSS: https://www.music-wap.com/feeds/posts/default?alt=rss