Nigerian Man Builds House with Plastic Bottles, Pictures of the Beautiful House Spark Massive Reactions
– A Nigerian man has gained huge traction on social media after photos of his house surfaced on social media
– The unidentified man constructed the house using plastic bottles
– Many argued that they can't live in such a house, while others found it amazing and creative
A Nigerian man has generated mixed feelers on the internet as he constructed his house with plastic bottles.
The yet-to-be-identified man was the centre of discussion in a Facebook group Igbo Rant HQ as a member of the group, while sharing pictures of the plastic bottles house, posed a question to the ladies:
"As a lady can you leave with your man in a house made with an empty bottle filled with sand ??"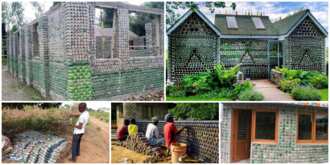 Man builds house with sand-filled plastic bottles Photo Credit: Igbo Rant HQ
In the pictures he shared, the man first filled plastic bottles with sands – which took the place of bricks.
The sand-filled bottles were then placed on each other just like bricks. It was however not clear if cement was used in ensuring the plastic bottles held together.
It was also observed that pieces of wood were used in the making of the windows and entrance door.
The beautiful structure got mixed reactions from men and ladies alike. While some hailed the man's creativity, others expressed fear that a strong rain may be the end of the house and as such, it is not safe for human habitation.
Daniel Chiemezie wrote:
"The house no follow abeg…. the cement is not strong on those containers…. Na wen heavy rain with wind fall u go see."
Emmaculatta Madueke said:
"This is so creative o. Besides Dangote cement don cost. But can it stand d test of time?"
Abiodun Oluwaseun commented:
"And the house is fine o but mba I can't leave in this kind of house, one can't sleep in this kind of house with the two eyes closed."
In a BBC News Pidgin interview, the man said he used pet bottles to design the house in an African round shape, such that there are three rooms that could be used for different purposes.
The civil engineer stated that the discarded bottles are gathered from different dumps in Kaduna. He added that during the collection, nobody took them seriously, asking why they were busy collecting waste around.
Ahmed disclosed that what they set out to do drew so much attention and people wanted to really see how it would turn out.
RSS: https://www.music-wap.com/feeds/posts/default?alt=rss