'Oyinbo' kid sings Wizkid's Blessed song with sweet voice, her cute video breaks the internet
– A kid's performance of Wizkid's Blessed track is giving great excitement online as people commend her voice
– With measured calm, the girl coursed through every word in the lyric with the ability only associated with pro artistes
– Among thousands who commented on the video were tweeps who tagged Wizkid, asking him to feature her
A 'white' kid has generated massive reactions on Twitter with her marvellous rendition of Wizkid's Blessed song, one of the tracks on Made In Lagos album.
Her voice made people appreciate how rich the lyric of the song is. A further search online revealed that the kid is a female artiste with the handle @mehcosa.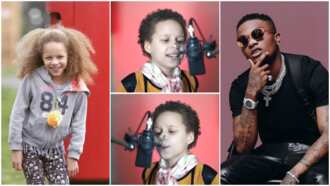 The kid's video performance of the song has got massive comments online. Photo source: @wizkidayo, @mechosa
Her Twitter profile has both Nigerian and UK flags, suggesting that she could be of mixed heritage. A Twitter user, @maazi_chinedu, who shared the clip said that what the kid did with the song shows the work Wizkid and featured artiste Damian Marley invested in the piece.
Watch the video below:
At the time of writing this report, the video has been seen over 600,000 times with thousands of comments and retweets.
Below are some of the reactions:
@AndrezTunner said:
"I love the kids making it."
@Adetorodare said:
"Any top 5 without Blessed Na trash."
@TomMoutchi said:
"Guys please I need to hear more of this! This is my new Fav!"
@_toobold said:
"I was smiling while watching this. @wizkidayo don't air this kid."
@MMAFIASCO said:
"Omg this is just toooo cute."
The young man who tagged the musician to his tweet begged people to help retweet his clip so that it can have a wider reach.
One of his lines that hit hard is:
"I dey jump danfo you dey fly jet, Your flex money na my house rent…"
RSS: https://www.music-wap.com/feeds/posts/default?alt=rss