Eid Fitri: Ramadan Fast Continues, Saudi Arabian Govt Declares, Sets Date for Festival
– The inability of astronauts in Saudi Arabia has changed some arrangements ahead of the Eid Fitri festival
– The Saudi government has announced that the Ramadan fast will continue on Wednesday, May 12
– Moreover, the government disclosed that the festival will begin on Thursday, May 13
According to reports from the Tumair observatory of the Kingdom of Saudi Arabia, the crescent of the month of Shawwal has not been sighted and as such, the Eid Al Fitr will begin on Thursday, May 14.
Attempt to search for the crescent officially began at different observatories in Sumair and Tumair on Tuesday, May 11.
Added to this, the royal supreme court noted that Wednesday, May 13, will mark the 30th day of the Ramadan fast and that Thursday will be the first day of the Eid Al Fitr festival.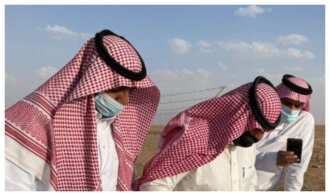 The kingdom said the Muslim festival will begin on Thursday, May 13 (Photo: @hsharifain)
Confirming the foregoing, the Nigerian Supreme Council for Islamic Affairs (NSCIA) on its Twitter page on Tuesday said:
"There was no positive sighting of Shawwal crescent in Nigeria today, 29th Ramadan 1442 AH (Tuesday, 11th May 2021). Hence, tomorrow is 30th Ramadan 1442 AH (Wednesday, 12th May 2021) is Thursday!"
Earlier, the federal government had declared Wednesday and Thursday as public holidays to mark the 2021 Eidul-Fitr celebration.
This announcement was contained in a statement on Monday, May 10, by the permanent secretary of the ministry, Shuaib Belgore.
Music-wap.com gathered that the statement quoted the minister of interior, Ogbeni Rauf Aregbesola, while making the declaration on behalf of the federal government in Abuja, as congratulating the Muslim faithful on the occasion.
The minister, therefore, called on all Nigerians, at home and abroad to use the period of this year's Eidul-Fitr celebration to pray for peace, stability and economic transformation in the land.
Aregbesola who believed that development cannot thrive in a rancorous atmosphere urged all Nigerians to be law-abiding and embrace the spirit of love, self-discipline, kindness and tolerance, as taught by the Holy Prophet Mohammed (Peace Be Upon Him).
He also called on all security agencies in the country to be more courageous and patriotic to surmount the ongoing battle against resurging insecurity and activities of criminal elements in Nigeria.
He assured that the resolve of President Muhammadu Buhari-led administration to end the scourge of crime and criminality in the country and restore peace to every nook and cranny of Nigeria was sacrosanct.
Source: Music-wap.com
RSS: https://www.music-wap.com/feeds/posts/default?alt=rss