Cheating husbands should be charged for attempting murder – Actress, Nnaji Charity
Nollywood actress Nnaji Charity has suggested that married men who are cheat on their wives should be charged for attempted murder.
The actress took to her social media account to reveal that a married man who isn't faithful in his marriage has no right to let his wife have access to his phones. According to her, it is attempted murder and the culprit should be arrested and charged to court.
In her words;
"AS A HUSBAND YOU KNOW OF A TRUTH YOU ARE CHEATING ON YOUR WIFE YET YOU ALLOW HER CO THROUGH YOUR PHONE..HONESTLY, YOU SHOULD BE ARRESTED AND CHARGE FOR ATTEMPTING MURDER…"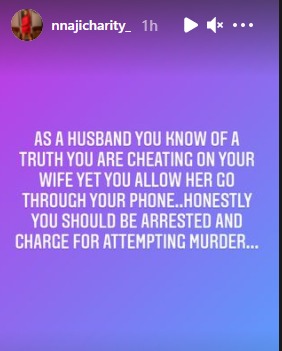 RSS: https://www.music-wap.com/feeds/posts/default?alt=rss