DJ Cuppy Says She'll Fall in Love When She's Ready, not Because She's Lonely
DJ Cuppy opened up about her stance about falling in love
– The billionaire daughter and singer revealed she does not intend to rush into any relationship
– Recall the Jollof On The Jet crooner was romantically involved with Davido's manager, Asa Asika
– Years after they parted ways, DJ Cuppy admitted to being the cause of their breakup
Popular Nigerian disk jockey and billionaire daughter, Florence Otedola better known as DJ Cuppy has opened up about where her headspace is at when it comes to relationships and why she is yet to be in love.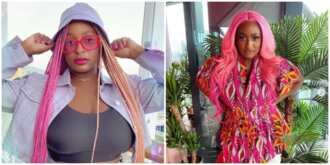 Cuppy talked about falling in love. Photo credit: @cuppymusic
Cuppy stated that she has no intention of going into any relationship simply because she is lonely. The singer explained that she'd let herself fall in love only when she is ready.
In her words:
"I'm going to PROPERLY fall in love when I'm ready, and not just because I'm lonely Relieved face #CuppyDat"
The pink hair enthusiast who is spending some time in Monte-Carlo in their family home in the country appears to be having the time of life with her best friend.
In a separate tweet, Cuppy stated that best friends were better than boyfriends.
Recall in 2020, DJ Cuppy admitted that she was the cause of the end of her relationship with ex-boyfriend, Asa Asika.
The young lady revealed this after she gave fans on Twitter an opportunity to ask her questions on things they wanted to know about her
A fan had asked the singer about her boyfriend and she replied by confirming her single status.
Still on the Otedolas, Tolanai recently recounted an interesting dream she had with fans on social media. The music star explained how she slept and dreamt that she was behind a fast-food counter fully dressed in uniform and hairnet.
Not stopping there, Tolani added that she was also selling akara and that she even attended to one of her father's friends.
RSS: https://www.music-wap.com/feeds/posts/default?alt=rss