Italian Restaurant Staff Celebrates Chelsea Star After Serving Him in a Champions League-Like Trophy
Jorginho was instrumental in Chelsea's Champions League triumph over Manchester City last month
– The 29-year-old provided the Blues some steel in the midfield as the Citizens were forced out of tactics in the game
– The former Napoli man was however applauded by some staff of a restaurant who served him in a UCL mold bowl
Jorginho was pleasantly surprised for his impressive contributions to Chelsea's Champions League triumph over Manchester City in Porto last month.
The midfielder's partnership with N'golo Kante helped the Blues stifle movement from their opponent while Kai Havertz went ahead to score the only goal that handed them the trophy.
While the Frenchman has been praised for his displays in the final last weekend, little has been said about the former Napoli man in spite of his performances.
However, while the 29-year-old was at an Italian restaurant in London, he got a grand reception from their staff.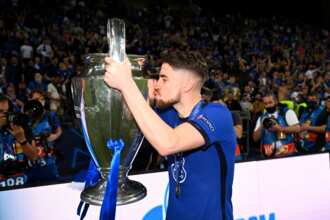 Jorginho kissing the Champions League trophy after Chelsea's victory over Manchester City. Photo by Darren Walsh/Chelsea
They made him so special after serving his meal in a giant Champions League trophy-style bowl and all the staff gathered to honour the football star.
The Champions League theme song was also playing while his food was served and the Chelsea star was also applauded by all those in attendance at the restaurant according to SunSport and Give Me Sport.
Jorginho was pecked on his forehead by one of the staff of the restaurant before covering his face in the video that trended online. He then looked up with a huge smile on his face as he exchanged some words with the workers.
The World Cup winner was part of the Blues squad that triumphed in the Champions League last month after beating Manchester City 1-0 in the final of the competition.
His current deal was due at the end of this month with several top teams already showing interest in signing him this summer.
RSS: https://www.music-wap.com/feeds/posts/default?alt=rss