When You Beef, You Lose Money, So Focus On The Music & The Business – Rudeboy Schools Shatta Wale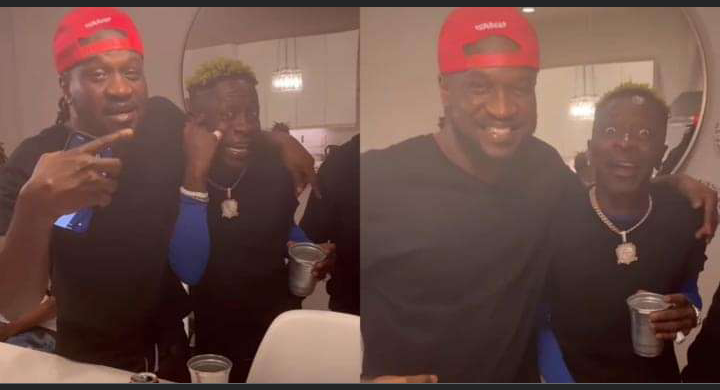 In a new video that started trending on Twitter yesterday, Shatta Wale was recorded arriving at Mufasa's house to meet Tunde Ednut and Paul of P Square duo for a business was captured.
Paul welcomed Shatta Wale with a handshake and so much excitement to Mufasa's house in Atlanta with a comment referring to Shatta Wale as the most stubborn man in Ghana.
Adding to that, Paul also sent a message to both Nigerians and Ghanaians who have involved themselves in the beef saga.
Below is the message.
LETS ALLOW THE MUSIC TO SPEAK !!!!
This beef beef This one say this This one say that Radio presenters discussing why this one said that to this one, peaching artiste to another is what is killing Ghana music industry..
For God sake we just came into for the love of music but Ghana and it's music gate keepers have decided to make music a competition from 1904 till date.. They keep running the music in Ghana like judiciary service
Shatta Wale added that Psquare (Rudebwoy) sends this message to us as a gift and lessons must be learnt from this.. I know a lot will come out of what I just said but hey man is being "Brutally Honest" Love.