"I can beat my chest to say my husband does not womanize" — Peggy Ovire hails Frederick Leonard (video)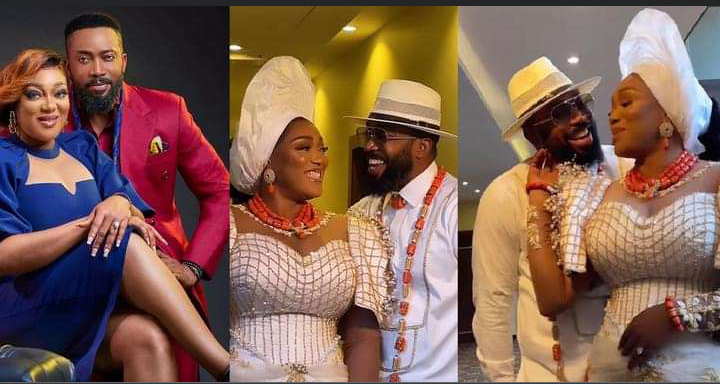 Popular Nollywood actress, Peggy Ovire, has stated confidently that her husband, Frederick Leonard, does not womanize.
The actress, who married over the weekend while sharing their unique love story and how they dated for seven years before finally tying the knot, said her husband was faithful to their relationship throughout those years and pleaded for him not to change.
She showered praise on her husband, describing him as a prayerful man, her best friend, true to his words, and someone who has proven his unwavering love for her time and time again.
She described herself as 'lucky' to be married to someone like him, and advised fellow ladies to be patient with their partners.
"I saw a man that is not a womanizer and most importantly that's why I stayed for this long. Please don't change, Fredrick is one man that I can beat my chest on, despite what everybody is saying, that he doesn't womanize. I will love you, I will respect you". She said in part.
Watch video below,
In other news, a Nigerian guy, identified as Ossai has converted to Islam in order to wed May Haidar, out of love for her.
The story was posted on social media on Monday, November 21, 2022.
According to the newlywed, her father was first apprehensive about the conversion.
"I went to see my dad and told him about it, at first he was not happy cos he was skeptical about the conversion and scared that he would go back to his old religion. My dad finally accepted and we did an introduction on 4th June and wedding preparations started. We were supposed to get married in October but he lost his mum so we shifted the date and Alhamdulillah it came to pass" she said in an interview with a wedding magazine.