"They look good together" – Fans react as Somadina Adinma shares adorable behind-the-scenes video with ex-girlfriend Regina Daniels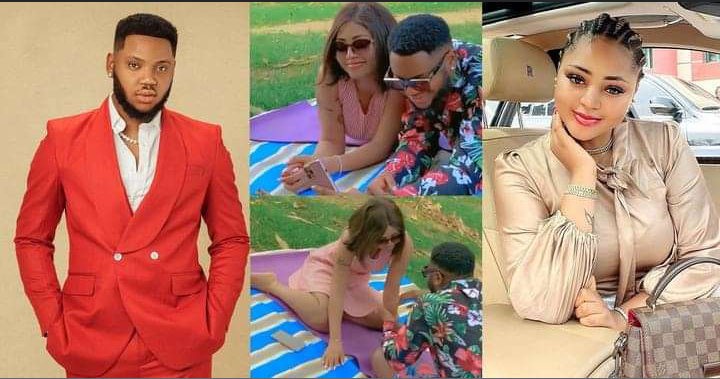 Nollywood actor, Somadina Adinma, has set tongues wagging online with a behind-the-scenes footage of a film he appeared in with his ex-girlfriend, Regina Daniels.
The actor, who was romantically linked with Regina before she married her billionaire husband, Ned Nwoko, in 2019, took to his Facebook page to share the video clip.
He said the behind-the-scenes moment were from the set of a movie they both featured in last year titled "Engagement party".
The former couple, who played lovers in the movie, were seen filming a romantic scene and giving each other compliments on their appearance.
Somadina captioned it,
"How time flies , it's been one year already since we shot "Engagement party"movie showing on chirstyj Tv on YouTube..here are the Behind The Scene moments I never got to post."
The video sparked a plethora of comments from Facebook users, many of whom revisited the topic of his failed relationship with Regina Daniels.
Doole Maxwell wrote, "It's well
I love you both
I can never judge Gina for her decision 
"
Isata Bokarie wrote, "I hope this was real so beautiful couple you guys are always good together"
Harmony Gold wrote, "Regina may be happily to Ned Nwoko but she is not comfortable with the kind of man She married to! The truth must be told! In life, when you allow your emotions and money to overrule your sense reasoning, you end up making a terrible mistake!
Life itself is beyond material things!"
Rita Mario wrote, "This two should have given birth to half cast. They're so beautiful together 
. It's well"
Eliza Nash wrote, "Absolutely amazing, that's what everyone is saying, but you forgot say na the two are supposed be together but our goddess go carry body give her grandpapa… life no balance oooo am just passing by Biko
"
Watch the clip below,