"I'm Shocked": Lady Stunned as Romantic Monkey Fondles and Kisses Her, Video Goes Viral on TikTok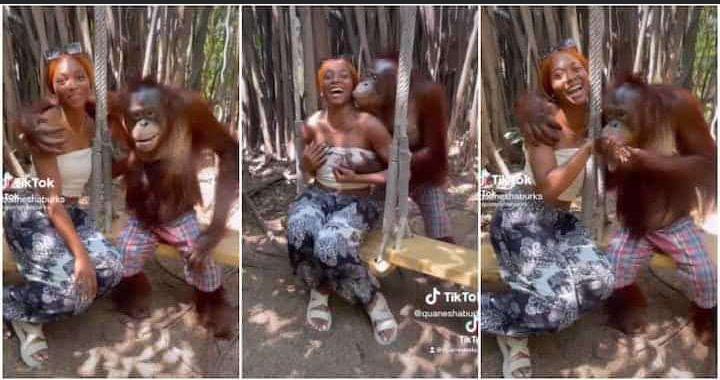 A beautiful lady shared a video on TikTok of the sunning thing a monkey did to her.
While she sat on a swing, the monkey arrived on the scene and proceeded to put its arms around her shoulder.
The monkey fondled the lady. Photo Credit: @quaneshaburks
Source: TikTok
The lady could not help but giggle and smile. The monkey kissed her hand and then grappled her mammary glands from behind while also kissing her on the cheek.
The TikTok clip has generated mixed reactions. While some people found it romantic, the monkey's actions did not sit well with a section of netizens.
Watch the video below:
Watch the video here 
Mr Beigns said:
"E nor go let me touch am now ohh.. See the wey tinubu dey romance am."
AYOMIDE said:
"It's cool when they do it but it's a problem when I do it !!!!!"
Nancy said:
"This fellow knows how to take care of a womanmore than this gender,that calls themselves awww dats sooo romantic."
VC said:
"OMDSSS THIS IS SO CUTE but funny at the same time."
Badellionaire said:
"I shouted Jesus."
adloop adloop said:
"This is what men be looking like to me anyway."
Home of entertainment said:
"They just dont talk because they don't want to pay rent."