"Not Only a v¡rgin, You be V¡rginia" – Reactions as A Lady celebrates as she receives certificate of virg!nity (Photos)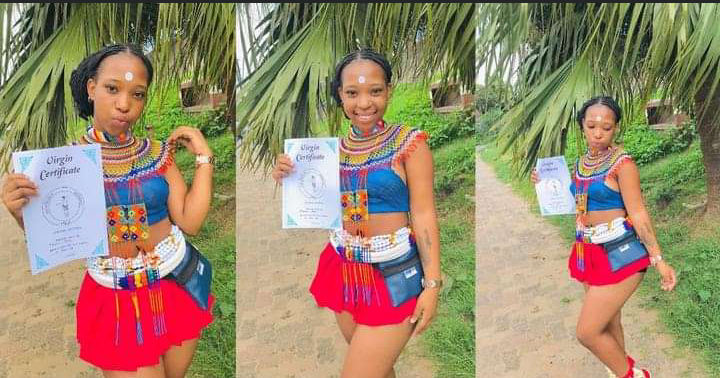 A beautiful lady has celebrated years of virg!nity as she took to social media with a certificate to prove it.
This comes following after the young lady had gone through a Virg!nity test at an organization, Sivuselela Amasiko Trust.
Having a purity test is a customary in some African countries. 18 years and above come and get tested. This test is done to promote chastity among women.
After the virg!nity test is done and the girl still remains untouched, she will be given a certificate issued by the society.
In photos circulating online, the pretty lady had just received her certificate to prove her chastity as she showed it off online.
Social media users could not stop laughing at the young lady showing off her certificate as they expressed their thoughts on the platform.
Checkout the photos below:
Some reactions are shown below:
@harryofido said, "Call INEC if you need to rig your virg!nity test!"
@tboysquare said, "If I agree make I bend 
".
@Cheztoi3Foods said, "Something ive collected every year?"
@BossGmoney1 said, "I wished I had known earlier".
@emma_courage said, "With all those tattoos my sister you don disvírg!n before them born you sef 
".
@Jeff_Bini said, "I know say this our virg!n life go pay us one day 
".
@khaleelshot said, "A meeting was called by the ministry of virg!n affairs, only few of us got certified after thorough checking and tests. I'm proud to be one. The certificate is confidential I should have screenshot."
@iamsmartsheddy said, "Most Nigerian girls will receive Certificate of Performance instead 
".
@gerraldfabian said, "After seeing INEC's forged election results I no fit believe anything on paper anymore."
@kalu_nnanna17 said, "For this particular babe matter ehn comrade in this life 2 things can happen but 2 happen can never things  shey u Gerrit ".