"Stop harassing me over my breast, the oppression is too much" – Actress Destiny Etiko cries out (Video)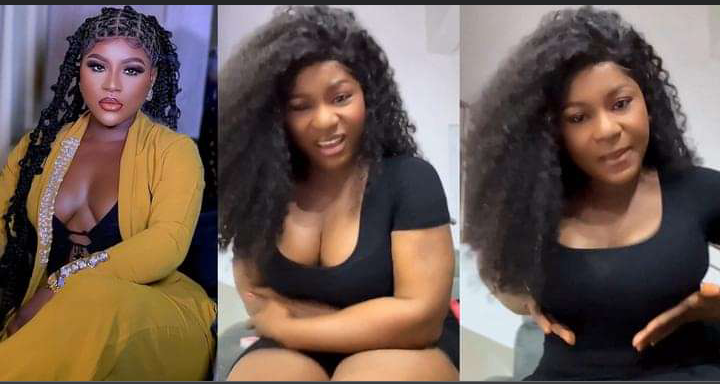 Popular Nollywood actress, Destiny Etiko has cried out online about being harassed over the size of her bosom.
In a video she shared online, the curvaceous thespian said she has received several unflattering messages from people urging her to have a breast reduction.
Etiko, who's apparently tired of the unsolicited advice, told her detractors to leave her alone while asking why they were so bothered by her breasts.
Denying claims that she had breast implants, Etiko reiterated that her breasts are natural.
"Destiny has not done anything to her chest, because my children are yet to taste it." She said.
"You people should stop harassing me about my breasts. I don't know what this beast has done to all of you. It's none of your business." She added.
Watch her speak below,
In other news, popular Nollywood actress, Bakare Zainab, has revealed why she prefers rocking outfits that expose her body.
The thespian, who has come under fire several times for her raunchy photos, stated in a recent interview with City People TV that she wears what she is comfortable in.
She claims her motive isn't to expose her body but to be comfortable in her dress.
Speaking further, Bakare attributed her choice of dressing to Nigeria's hot weather. According to her, she often dresses scantily because of Nigeria's hot weather.
"I wear what I am comfortable in. This isn't about exposing my body. Fashion isn't what people think about you, it is what you are comfortable in. Nigeria's weather is bad and sometimes I feel hot and sometimes I feel okay. I don't think it is anybody's business the way I dress. I am an adult. I am 35 – really! Some of my age mates have given birth in their husband's house". She said.