"The love of my life"- Mr Eazi celebrate Temi Otedola's birthday with romantic photos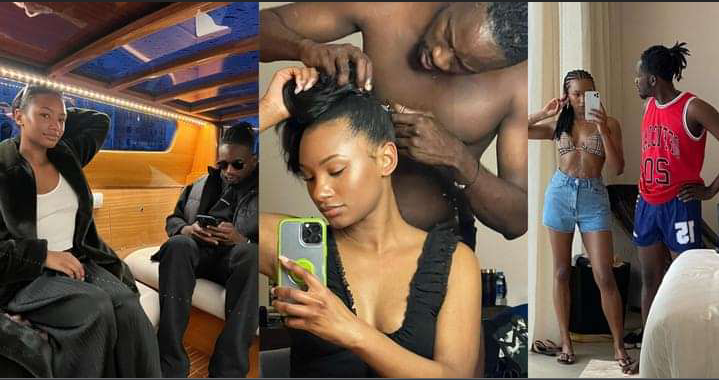 Mr Eazi has taken to Instagram to celebrate his fiance, Temi Otedola's birthday. The singer shared several adorable photos of himself and Temi, accompanied by a sweet birthday message.
In the photos, Mr Eazi and Temi are seen cuddling up to each other, laughing and enjoying each other's company. They both look great, with Mr Eazi rocking a stylish outfit and Temi looking gorgeous in a great outfit.
To mark the special occasion, Mr Eazi wrote, "Happy birthday to the love of my life."
Mr Eazi, whose real name is Oluwatosin Ajibade, is a Nigerian musician and songwriter who rose to fame with hits like "Skin Tight" and "Leg Over". He is also the founder of the record label Banku Music.
Temi Otedola, on the other hand, is a Nigerian fashion blogger, influencer, and entrepreneur. She is the daughter of billionaire businessman Femi Otedola and has made a name for herself in the fashion industry with her blog, JTO Fashion.
Mr Eazi and Temi Otedola met in 2017 when they were both attending a festival in London. They hit it off immediately and began dating shortly after. Since then, the couple has been inseparable, frequently sharing pictures of each other on social media and attending events together.
In 2018, Mr Eazi confirmed their relationship during an interview with a Ghanaian radio station, saying, "I don't think there's anything hidden about it. Temi is my one and only girlfriend."
The couple has been going strong ever since, with Mr Eazi often referring to Temi as the love of his life. In 2019, he released a song titled "Doyin" featuring Simi, which was dedicated to Temi and expressed his love for her.
In January 2020, Mr Eazi and Temi Otedola made headlines when they celebrated their three-year anniversary with a romantic trip to a private island. And now, with Mr Eazi's recent Instagram post, it's clear that the couple is still going strong and as in love as ever.