"What's your own?" – Toyin Lawani rebukes son Tenor for telling her to cover her cleavage (video)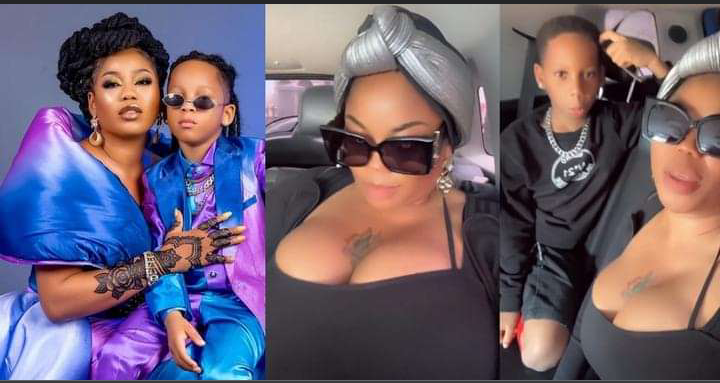 A video of celebrity stylist, Toyin Lawani, reprimanding her eight-year-old son, Tenor, for telling her to stop exposing her cleavage has sparked reactions on social media.
Toyin, also known as Tiannah Empire, took to her official Instagram page to share a video of the exchange between herself and her son.
Apparently, Tenor was uncomfortable with his mother's boobs hanging out from her low-neck outfit, and he pulled up her blouse to cover her cleavage.
However, the 40-year-old designer pulled it back down to show off her cleavage, which Tenor was enraged by and told her to stop pulling her blouse down.
In response to her son's rebuke, the mother of three chastised him for correcting her outfit when her husband, photographer Segun Wealth, doesn't mind her choice of clothing.
She posted the video on her Instagram page and wrote,
"See this guy o 

Even owner of Breast @segun_wealth is not complaining ,
@thereallordmaine what's your own "
Watch the clip below,
The clip has sparked mixed reactions online. Read some comments below,
@opuiyo_mirabel wrote, "Tenor is really growing so fast… See how big he looks. And he is trying to protect Uncle Segun stuff well"
@atelier_concierge wrote, "Tenor is so cute 
 he doesn't want people seeing his mummy's breast"
@stella_iwute wrote, "This is to say Tenor is grown o!!! Very soon he will be like mom you can't wear this out!
 My son once told me at a party….. He said Dee! This your skirt is too short… I was so shocked that I had to go change to a pant… Fortunately the party was in my area.
"
@post_chinny wrote, "it's same way my daughter helps me to adjust my blouse when I'm wearing a crop top mummy this cloth is not your size ,it's too small 
"