Singer, Lavida Lost Boy buys Benz, Lekki house weeks after switching to skit-making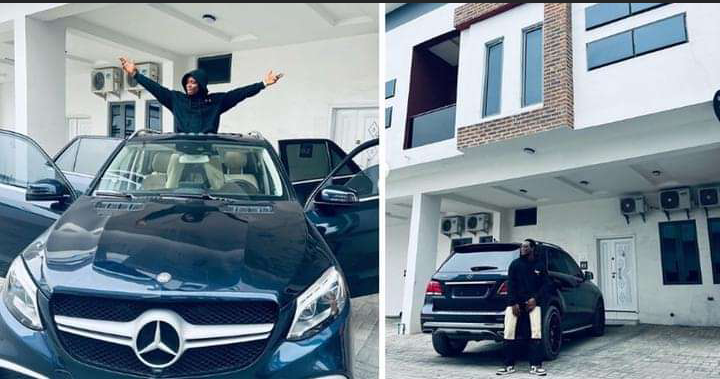 An up-and-coming skit-maker, Lavida Lost Boy has acquired a Mercedes Benz GLE 350 and a house in Lekki few weeks after joining the industry.
The young content creator and comedian started out as a musician and has a few songs, but switched to skit-making in March 2023.
He took to his Instagram page on Wednesday, April 5th to make the announcement while sharing photos and video.
Lavida Lost Boy congratulated himself on becoming a homeowner as well as car owner at the same time.
In the video shared on IG, he took his whip for a spin with his friend and sent a shoutout to fans that made it possible
He wrote; "Congratulations to me just coped me a baby 🚘 and a new home 🏠"
See the post:
In other news, a Nigerian lady simply known as Oyindamola has taken to Twitter to reveal how she played a guy who wanted her to cook at his place.
She said she was visiting him for the first time and he gave her the house key as well as money to buy food stuff.
According to her, the man asked her to come back the next day and use to money to buy meat and pepper which she would use to cook before he comes back from work.
However, she decided to go back home because she was not comfortable with the idea of cooking, so she dropped his house key under the mattress and on her way back, she used the cash to buy food for herself instead of returning it to him.
Oyindamola wrote; "I visited this guy for the first time and he gave me his house key and money 😂😂he said I should come the second day and buy pepper and meat so I can cook before he gets back from work 💀😂 dropped the key under his mattress and used the money to buy food on my way home."
Though she thought what she did was smart, netizens lambasted her for actions.
@emaryomeke; This is how some people miss intentional men, he probably saw you as someone he can end up with, you think is Everyman that will let you in their space and even want to eat your food.
@Tee_Classiquem1; Nothing is funny here, he gave you his house key and money to cook for him probably out of trust or something, it won't take you anything to tell him you ain't cooking for him and reject his money, coming here to post it on twitter with plenty laugh emojis is what i don't get
@Ugobeck; He could be playing a loyalty test on you. If he is not,then he got some level of trust in you. A good conversation is clearly missing here. I see assumptions in conclusion without a conversation.
@BelMamacita; Loyalty test?? Dating wasn't involved! And I told him several times that I'm not cooking, he didn't listen. It almost became an argument! How will you trust someone you are seeing for the second time and you've only known for a week with your house key??
@kingkisii; You pack emoji full the write up so e go be like say e funny but in the real sense you rob person wey trust you. Na thief you thief mama. As you drop key, why you no drop money.
@ChisomOfficial; You didn't reject the assigned tasks or tell him off instantly. After stealing from him you thought it would be nice story for social media, covering your criminality with emojis. You've done well.