"Benz Moves":- Hajia Bintu Dance With Guy, Causes Stir With Video On TikTok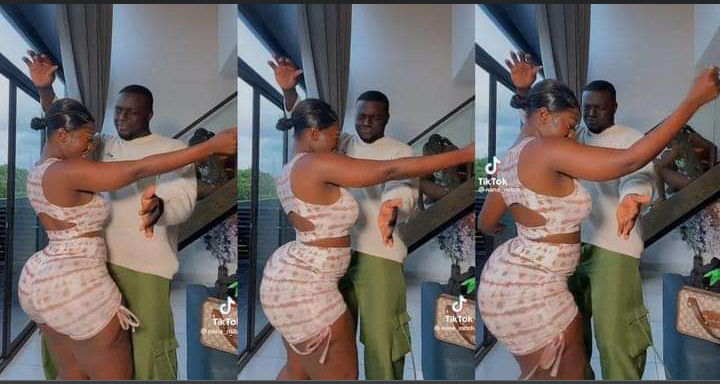 Ghanaian TikToker, Hajia Bintu has made headlines for her latest dance video with a male TikToker called Nana Mitch. The video, which was uploaded on On Nana Mitch's TikTok accounts, has gone viral and has been the talk of the town.
In the video, Hajia Bintu can be seen dancing to a popular Ghanaian song, while Nana Mitch joins in with his own unique moves. The two TikTokers showcase their impressive dance skills and chemistry in the video, leaving their fans mesmerized.
Hajia Bintu, who is known for her curvaceous figure and popular TikTok dance videos, has gained a massive following on social media platforms. With over 2 million followers on TikTok alone, she has become one of Ghana's most popular influencers. Her collaboration with Nana Mitch has only added to her popularity and has gained her even more followers.
Nana Mitch, on the other hand, is also a rising TikTok star in Ghana. He has gained a considerable following for his unique dance moves and comedy skits. His collaboration with Hajia Bintu has been well-received by his fans, who have been sharing the video on social media platforms.
The video has garnered a lot of attention on social media, with fans praising the duo's dance skills and chemistry. Many have expressed their desire to see more collaborations between the two TikTokers in the future.
Hajia Bintu and Nana Mitch have not commented on the viral video, but their fans are eagerly waiting for more content from the duo. With their impressive dance skills and popularity, it's no surprise that they have become the talk of the town in Ghana's entertainment industry.