BBNaija star, Angel splurges millions on customised G-wagon (Video)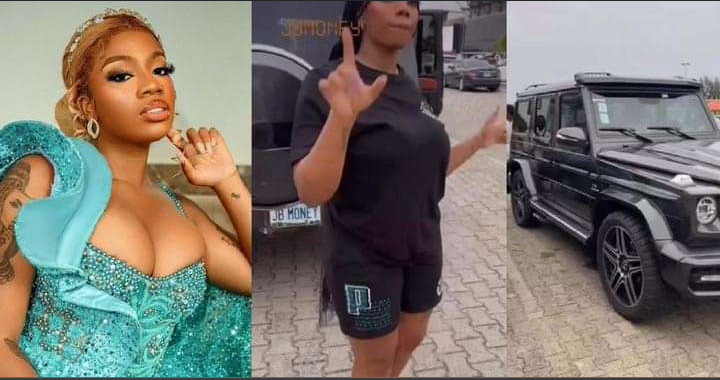 Big Brother Naija season 6 star and influencer, Angel Smith has added a brand new G-Wagon to her fleet of cars.
The 22-year-old reality TV star and brand influencer is said to have recently acquired the luxury car with a customized license plate that read, "JB Money."
The Mercedes-Benz G-Wagon is one of the most luxurious and expensive SUVs in the world, and Angel's customized G-Wagon is no exception. The vehicle is said to have cost millions of naira
Popular Instagram blogger Tosin Silverdam shared the news of Angel's latest addition to her garage—he shared a video of her with the new whip.
Reacting to the video, netizens lauded Angel for constantly making big money moves in silence, without social media noise.
Watch video below,
A while back, Angel Smith fired back at media personality, Nedu Wazobia, for claiming female BBNaija stars have nothing to offer except sex.
Nedu had stated this during a recent episode of his podcast, 'The Honest Bunch Podcast'. According to him, most women intentionally go for the reality TV show to get more customers for their bodies.
The popular host evidently stepped on some toes with his statement as he has been lambasted by some BBNaija stars, including Angel.
In a series of tweets shared on Twitter, the 22-year-old star averred that Nedu is misogynistic and hates seeing women progress.
She added that he is free to get a sugar daddy to bankroll his lifestyle, if he wants one instead of throwing jabs at women.
Angel tweeted,
"This is all so old and boring, I don't know why men can't just mind their business. So many women have come out of big brother to become actresses, start businesses and actually have a solid brand but because y'all are so misogYnistic and uninformed you say rubbish.
Every time it's a man in the industry slYtsh@ming women, you're over 40, if you want a sugar daddy then maybe get one, nobody is stopping you.
Look how happily he's saying it. You people will shame women for having consensual sex and be surprised when men sexually assault women. Toto plaintiff, box patrollers, the coochie constables."