But you dey insult us – Nigerians shocked as Burna Boy apologizes for coming late to his Dallas show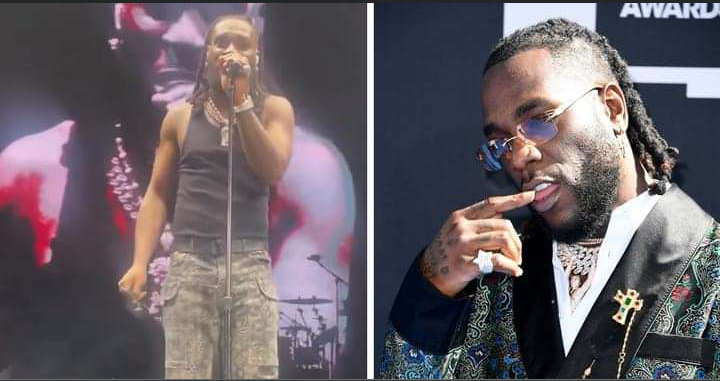 It was gathered that the self acclaimed African Giant showed up late for the concert at American Airlines Center and it angered his fans who had been waiting forhours.
Interestingly, Burna Boy tendered an apology to the crowd and asked them not to be offended as he was delayed by some unforeseen circumstance with regards to the stage set-up.
When he was done with that, the Odogwu crooner asked his Dallas fans if they were ready for a thrilling show he was about to deliver and there were screams of excitement.
He proceeded to sing hit songs off the Love Damini album, but Nigerians on social media expressed shock that Burna can be that civil towards his fans abroad because he has a history of talking down on those in Nigeria when similar incidents occur.
Burna Boy Performing "Alone" at his Sold Out show in Dallas 🔥🤯 pic.twitter.com/ugmnwNnhdf

— TXT (@txt_mag) April 13, 2023
A user @PopoolaGabriel8 said; Burna Boy apologized to his Dallas Crowd for coming late to the show. But if to say na Lagos, e go don swear for all of una😂😂
"Burna Boy apologized to the Dallas crowd for being an hour late"

Someone said; if it was Lagos now, him for first insult una papa and kick una head join 😂😂😂😂💀

— *Pablo Martini* (@PabloHoggs) April 13, 2023

@Dhavidote; So Burna Boy still come late for ein show yesterday for Dallas?😂😂 @OvieO; Burna Boy just apologized to the Dallas crowd for being an hour late. ☺️ Lagos, sorry o! 🤣
@alekhueisaaco; odogwu double standards 😂😂😂😂😂
@Omojonah69; Because they respect him over there, Meanwhile in Nigeria its the opposite and even if he did apologizes to Nigerians they will still look for something else's to drag him for🤷‍♀️
@Iam_Precious_A; We know as we dey do here, we no dey apologize and it doesn't mean anything if he apologized to us or not
@j0yD_; He doesn't rate you guys but you guys will still buy tickets like your lives depend on it
@Anu_official; He's called African Giant for a reason. The 'giant' persona na within Africa
@fisafluze; this should be the norm 💥 respect fans who makes your art payable
@MLD2SURE; He never apologizes to the Lagos Crowd for coming late to date.
@OmomhilaSamuel; Baba come Lagos dey insult fans for coming late. Odugwu na mad man
@MarvelChidi; People saying "he respects who respects him" I don't understand the kind of respect you people are talking about, so because we cautioned him to stop stepping on people's heads we've disrespected him?
@Great111842;Dem no born am well 😂😂 he no go apologize kee 😂 unless he won return the money for ticket 🎟😂😂😂 he no rate Nigeria outsiders
@Castle114004558; Nigeria is embarrassing I no to blame am because we no get dollars 💵 😂
@Chibuzo02553036; All of you defending Burna in the CS have self complex issues, fix up. Jeez, Is it that you all are not loved at home that make you to come online and defend nonsense? Well, it's you people that will go to his concert by 8pm and he will come by 3am not me.