Lady gifts bestfriend cash, iPhone 14 so she won't have other female besties (Video)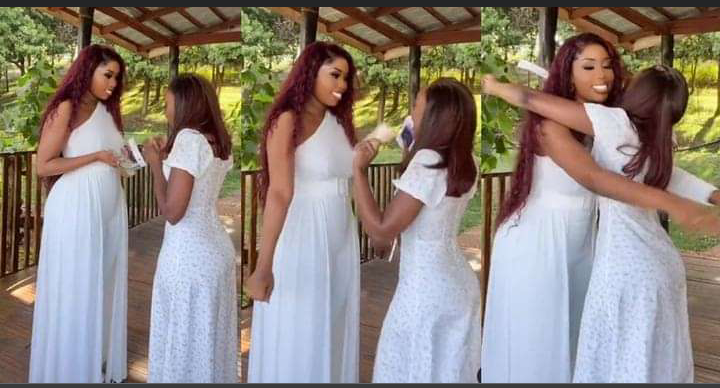 A Kenyan Influencer identified as Cuppie Ayokya, has revealed that she bought an iPhone 14 and gifted it to her bestie for a special reason.
The beautiful lady also surprised her bestfriend with bundle of cash and it was all so that she won't see the need to have other women as besties.
In a video which has gone viral on social media, Cuppie could be seen handing the iPhone and cash gift to her friend in a resort.
The friend who was excited about the items jumped for joy and in appreciation she gave Cuppie a deep hug.
Sharing the video on her TikTok page, the Influencer wrote: "Me buying my bestfriend iPhone 14 and giving her money so that I can blind her from having other female bestfriends."
See the clip below:
Meanwhile, relationship advisor, Blessing Okoro aka "Blessing CEO" once advised men against allowing their girlfriend to have a guy as best friend.
She stated that there is nothing like 'male bestie' and it is not possible for a woman to have a platonic relationship with a man.
The founder of Makeup or Breakup urged men in serious relationships to be very careful when they learn that their partner is close to another man on the basis of friendship.
Blessing Okoro likened the scenario to someone giving bone to a dog and asking it not to eat the food, noting that male friends are threats to a relationship.
According to her, a male bestie is a man who did not have the courge to ask the lady out, so he settled for the friendzone.
Speaking in a video, she said that when a man and woman who are just friends are left alone in a room, there is bound to be some secret intimate activity.
Blessing added that besties have more powers than the boyfriend because they know everything about the girl which can he can use to his advantage.