Adekunle Gold wipes tears of Hair vendor whose shop was emptied by Robbers – VIDEO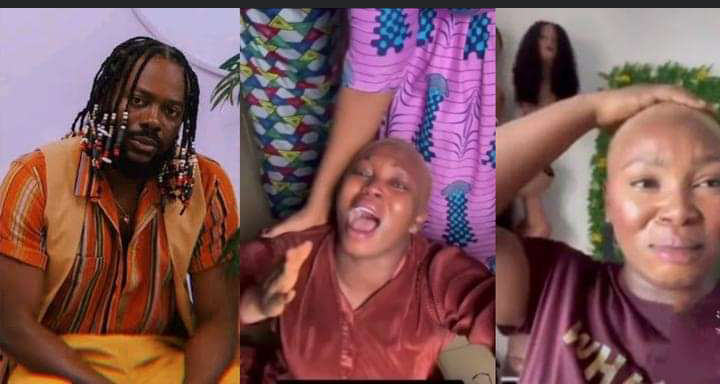 Nigerian singer, Adekunle Gold has provided some relief to a hair vendor whose store was ransacked by thieves.
The entrepreneur had taken to social media to weep after she opened her shop in the morning and discovered that she was robbed the previous night.
"Guys everything, see they cleared everything. But make una relax I'm going to sort out everybody. Don't fear. It's me bah. I will sort you guys out", she lamented.
Adekunle Gold took pity on her when he saw the clip and decided to empower the woman in his own way.
In a fresh clip, the store owner went down on her knees and expressed her gratitude to the singer for reaching out and sending money to her.
The hair vendor's family also joined her in kneeling down to thank Adekunle Gold for wiping their daughters tears.
She, however, did not disclose the amount of money she received from the 'Something Different' crooner, but they were all evidently overjoyed.
See video below:
Meanwhile, a Nigerian man simply identified as Chisom has reminisced on how his wife supported him financially when they were still courting.
He said that there was a time the company he worked for closed down so he was rendered unemployed.
The married man said his girlfriend who became his wife was sending him stipend for upkeep every month until he was able to get another job.
Chisom narrated the experience through micrblogging platform, Twitter and revealed that the first month his woman gave him the monthly allowance, he broke down in tears.
He wrote; "Before we got married, there was a time when I was out of a job. The company had closed down and my boss then didn't pay me salary for that month.
My wife (gf then) was sending me money for upkeep monthly till I got a good job. The first month she did this, I cried like a baby."
In reaction, @iohmbra said; When a woman really loves you the sun shines from both sides. Bless her!
@Ribaaku_; I take God beg you, I no wan hear say you make that woman cry. Never, ever, in the mighty name of Jesus.
@EsuMercy; Oh please Chisom, is just a good human with 100% conscience intact. I have paid for a diver's (medical), in the bracket to stress the amount involved, he got the job and I never heard of anything until when he was suspended, or assisting in a business setup, and to date nothing.