Ayra Starr's song, Rush set as compulsory exam question at Kenyan University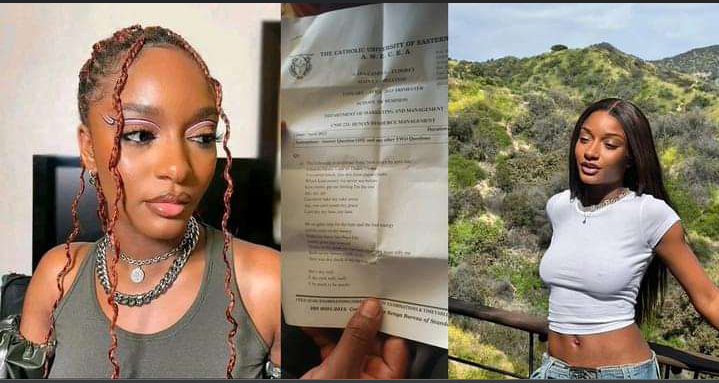 Nigerian singer, Oyinkansola Sarah Aderibigbe, professionally known as Ayra Starr was mentioned in a test at The Catholic University of Eastern Africa in Nairobi, Kenya.
Her popular song "Rush" was made a mandatory question for second-year students in the Department of Marketing and Management.
A Kenyan student took to his Twitter account, to share a screenshot of the exam paper and expressed disappointment that their lecturer based the questions on a musician's song despite studying the other parts of the syllabus intensely.
He wrote;
"Imagine this, you've studied the whole semester for a unit depriving yourself of any form of entertainment even music and hujawai skia rush by ayra starr, you walk into an exam room and this is what you see."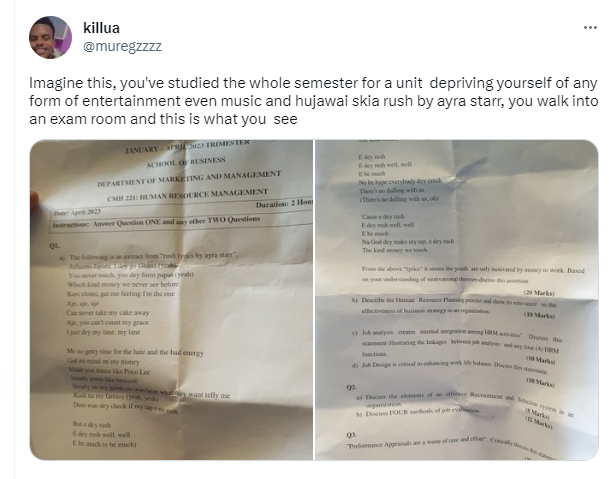 The lecturer gave the students the song's lyrics and asked them to assess the underlying presumption that young people are only motivated to work for money.
The first question on Ayra Starr with sub categories read;
"From the above "lyrics" it seems the youth are only motivated by money to work. Based on your understanding of motivational theories discuss this assertion.

b) Describe the Human Resource Planning process and show its relevance to the effectiveness of business strategy in an organization.

c) Job analysis creates internal integration among HRM activities". Discuss this statement illustrating the linkages between job analysis and any four (4) HRM functions.

d) Job Design is critical in enhancing work life balance. Discuss this statement."