Singer, Ckay acquires a luxury mansion; shows off house he lived in years ago (photos)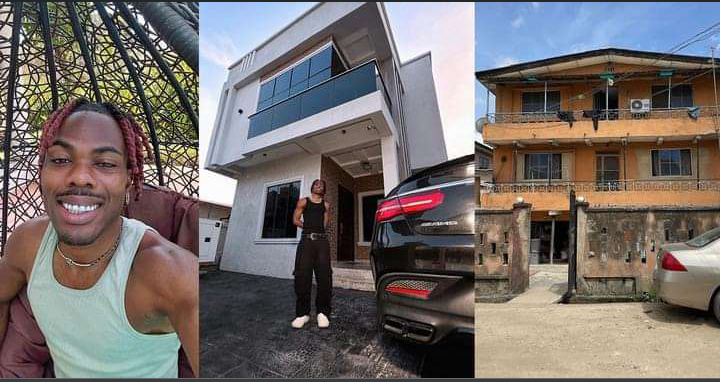 Massive congratulations are in order for Nigerian singer, Chukwuka Ekweani popularly known as CKay, as he becomes the latest landlord in town.
The 'Love Nwantiti' crooner took to his Instagram page to announce the purchase of his new mansion on Wednesday, May 3.
He shared a photo of himself posing in front of his new luxurious property, alongside the building where he used to live nine years ago, and stated that he has come a long way.
"came a really long way. grateful. HALLELUJAH out on friday 
", he captioned the photos.
Congratulations to him!
See the photos below,
A while back, Ckay reacted to the negative reactions that trailed his latest achievement.
The singer's hit single 'Love Nwantiti' which became an internet anthem after it went viral on TikTok, is currently topping charts on several music streaming platforms and he recently received his first-ever BRIT certified silver plaque in the UK.
Reveling in his accomplishment, Ckay dug out an old tweet he made in 2020 where he declared himself a 'global star'. According to him, that tweet makes more sense now that he has gained global recognition.
However, some Twitter users didn't feel the same way and they slammed him for making a big deal out of one single that blew up.
One @victoryfrank9 tweeted, "Because of one tiktok song, u never even try and reign for 4yrs u dey mke noise,,abeg oga Ade try and make another hit song no be all those your one million remix on one song".
Another one wrote, "WTF You're star only in Nigeria not globally. In Tanzania we don't know that name Ckay"
The singer has now addressed those 'crying' over his tweet.
He wrote, "I will never understand the hate honestly. If I win, it's a win not just for me but for the entire culture. you can either see it that way or cry. idgaf."