Top 10 Richest Musicians In Nigeria this 2023, Net Worth and list of cars they own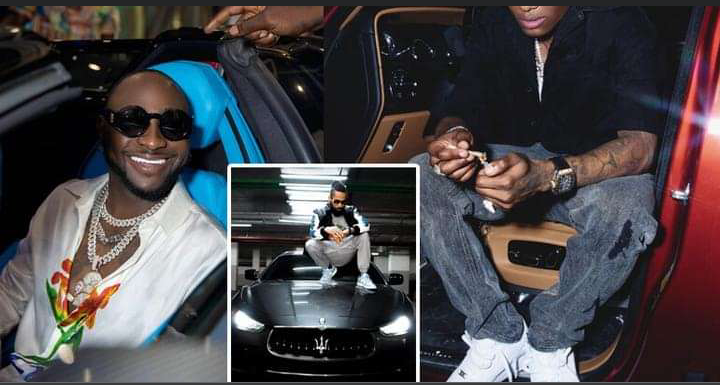 One thing about Nigerian musicians is that they make money from their craft. While many make money through music, many have become extremely wealthy through their artistry.
Below is a list of some Richest Nigerian musicians, their net worth, and the cars they own.
Davido – $90 Million
The Nigerian singer and leader of the 30BG gang DAVIDO is another wealthy Nigerian singer with a net worth of over 15 billion Naira. Davido owns the HKN music record with his brother and has signed many Nigerian artists.
Davido has houses in Banana Island and a getaway mansion in Georgia, USA. He is also one Nigerian musician with top taste in luxury cars, and they include:
2019 Rolls Royce Cullinan
Bentley Bentayga
Bentley Continental GT
Porsche Panamera Turbo S
Range Rover Sports
Range Rover SV autobiography
Chevrolet Camaro GS
Audi R8
Audi Q7
Mercedes-AMG GLS63
Mercedes G-Wagon
Toyota Land Cruiser
Wizkid – $70 Million
The Nigerian singer's net worth is valued at 15 billion. Wizkid, who now owns Starboy Entertainment, owns a 13 million Naira mansion in Surulere and Los Angeles. The Starboy owns a private jet and has a collection of cars that includes:
2021 Rolls Royce
2019 Lamborghini Urus
2020 V-Class
Maybach
G-Wagon
Porsche Panamera
BMW X6 Crossover
Don Jazzy – $55 Million
Don Jazzy has acquired a lot of wealth through being in the Nigerian music industry. The billionaire's net worth is valued at 37 billion Naira. The record label boss owns three mansions in Lekki, Banana Island, and Los Angeles. Some of his exotic car rides collections are:
Don Jazzy New Car

Porsche 911 Carrera
Bentley Continental
Cadillac Escalade
Mercedes Benz E350
Burna Boy – $40 Million
The African Gaint is another wealthy musician in the country with a net worth currently valued at 12 billion Naira. Burna has been in the music industry for years, and his success skyrocketed around 2018. Since then, the singer has become an international singer with several concerts and awards.
Burna owns a massive multimillion-naira mansion In Lekki, and below are some of the cars the singer owns:
Red hot Rolls Royce Dawn Convertible
Ferrari 458 Italia
Bentley Continental
Mercedes Benz G-Wagon
Timaya – $35 Million)
Timaya is another popular Nigerian singer who has also acquired a lot of wealth through music. As many refer to him, the plantain boy has been in the Nigerian music industry for years. He started his musical career in 2005 and since then has continued to make huge progress, with a net worth valued at 5 billion Naira.
Timaya owns a 250 million mansion in Lekki, and the singer owns a variety of cars like:
Porsche 911 Carrera
2 Range Rover Sports
Mercedes-Benz G55 AMG
Mercedes-Benz GLE
Bentley Continental GT
2015 Lexus LX570
Used Lexus GX 460
D'banj – $30 Million
D'banj, popularly known as the "Koko Master," is the #6 richest Nigerian musician with a net worth of $30 million. The singer did his university education at Oxford University in London, where he studied Mechanical Engineering, after which he returned to pursue his musical career in Nigeria.
Dbanj owns a house in Lagos, and some of his cars include:
$200,000 Worth Aston Martin Vintage
2 Toyota Jeep
Toyota Hilux
2Face Idibia – $27 Million
The Benue-born music star is also on the list of wealthy Nigerian singers with a fat net worth of over 10 Billion Naira. Starting from his Plantashun Boiz group, 2Face BABA grew into a reputable Nigerian musician and has since continued to grow in his craft.
He owns mansions in Lagos Island, Festac, and Ikeja. Below are some of the rides the musician owns:
Chevrolet Corvette Coupe
Ferrari Coupe
Toyota Land Crusier Prado
Flavour – $23 Million
Flavour makes #8 on the list with a net worth of $23 million. The Enugu-born singer is a famous Nigerian highlife/Afro-pop singer, songwriter, guitarist, recording artist, stage performer, and instrumentalist. The artist, who goes by the name of Chinedu Okoli, is a top earner in the music field.
Some of the cars the artist owns include:
Lexus LX 570
2014 Mercedes Benz G63
2014 Range Rover Vogue
BMW X6
Olamide – $21 Million
The list is only complete with the mention of popular Nigerian rapper, Olamide. The rapper has been in the industry for years and has a net worth of 7 billion. The YBNL music boss has gathered so much recognition both locally and internationally.
Olamide owns two mansions in Lekki and Bariga, Lagos. His garage contains vehicles like:
Mercedes-Benz G-Wagon
Range Rover Sports V8
Rolls-Royce Phantom
Phyno – $20 Million
The Anambra-born and Enugu-raised rapper is one of the richest singers in Nigeria, with a net worth of over 6 billion Naira. Phyno owns a 3-bedroom duplex worth 170 million in Chevy View Estate, Chevron Drive in Lekki, ad another mansion in Enugu State. Some of the cars the musician has includes:
Rolls-Royce Phantom
Lamborghini Gallardo Spyder
Polaris Slingshot
Bentley GT Coupe
Conclusion
This is not an exhaustive list of all the wealthy musicians in Nigeria. However, it's a list that highlights some of them, their estimated net worth, and their cars.