"When did I do this one?" – Wizkid asks producer P. Priime while vibing to one of his unreleased songs inside the studio (Video)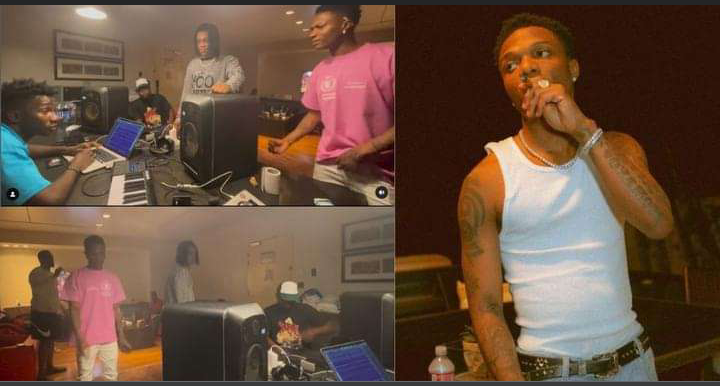 A video involving popular Nigerian singer, Wizkid, music producer P.Priime and other team members inside the studio has surfaced online and by extension stirred several reactions among netizens.
Wizkid just like others during the studio session was seen showing gestures as Producer P.Priime played some of Wizkid's songs he has produced.
As music producer P.Priime continued to play the songs he had already mixed and mastered, it get to a turn Wizkid mood was lightened up and that was just the beginning.
Showing how much he really loves the snippet of that particular unreleased song, Wizkid who seems to have less idea about the song due to the fact that he has recorded several songs both released and unreleased asks producer P. Priimee about the song details.
Wizkid who is quite curious moved toward P.Priime and questioned him, he said; "When did I do this?"
P.Priime seems to be in another world as he was unable to reply to Wizkid who asks him to replay the song using hand movement.
Watch the funny video below;
See reactions below;
__ferry__1: BABA JUST DEY FEEL HIM MELODY FORGOT HE DID THAT 😂😂😂.
charlie_benzema: IDAN sef don forget 😂.
project_.kid_1: She tell me sayyyyyyyy🔥🔥🔥🔥🔥.
osmondbuchi:  IDAN GoN-GoN🙌 baba lost counts cos e too plenty 🔥😮.
iamstarboi_rinzywayne: Can't believe I watched this video over 10 times🔥❤️.
ogtegzi: IDAN don forget say e don record song before 😹❤️.
ffp_2threes: Too many sweet songs Popcy don't know the one he recorded ❤️❤️🔥🔥.
zachamthehustla: Ah when did I do this one Baba de always Dey on cruise how him no go skip 😂😂😂😂😂.
emejefavoursocials: Omo see beat… Wizkid gbemidebe 😂😂😂