Ayra Starr and Tems: Who Is Richer? Cars They Have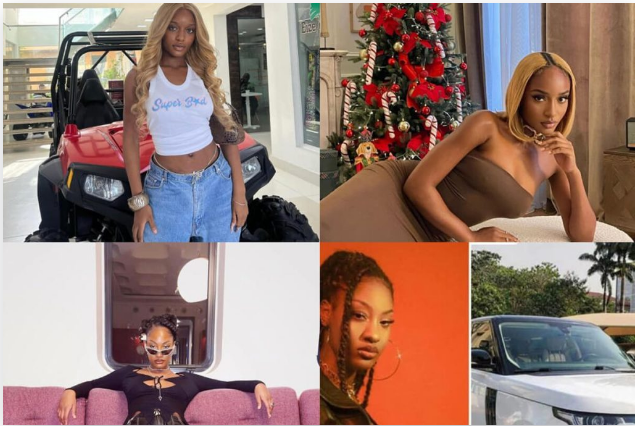 Have you ever wondered who is richer between the two Nigerian artists: Ayra Starr and Tems? Well, we have gathered information about these two immensely talented singers. Here's what their net worths are.
So, if you have been wondering or curious to know, here's a comparison of who is richer than who.
Ayra Starr Cars, House & Net Worth
Oyinkansola Sarah Aderibigbe, who goes by the professional name of Ayra Starr, is one of the young Nigerian female artists gradually dominating the world of Afrobeats and Afrohouse. She started her musical career by posting incredible Instagram covers that were impossible to ignore. Ever since then, the young talented Nigerian artiste has been sailing on the wings of a magical career journey.
The 20-year-old artiste Started her journey with modelling before switching to Studio and Music performances. One of her first modelling contracts was in 2018 when she joined the Lagos-based modelling agency, Quove Models.
However, she still had her eye on the music, and her trendy covers got the attention of the Mavin Record label boss, Don Jazzy, who eventually took her under his wings in 2019.
Ever since then, Ayra Starr has so much progress and growth in her career in the past 3 years since she came to the limelight with several of her hit songs like "Away," "Bloody Samaritan," and most recently, "Rush."
With her growing popularity in the Nigerian and global music industry, the 20-year-old artiste has amassed a lot of fanbases both at home and abroad. Her career successes have also influenced her pocket.
Currently, her net worth is estimated between ₦20 million and ₦124 million.
Regarding Ayra Starr's cars and house, there is no available information yet, as she still lives with her parents. But one thing is certain, the young artiste is riding towards an even brighter and bigger future and there's no telling how much she'll grow in the coming years.
Tems Cars, House & Net Worth
Temilade Openiyi, who goes by the professional name of Tems is a 27 years old fast-rising Nigerian alternate R& B artiste. She entered the limelight with her breakthrough song, "Mr Rebel." Ever since then, the young artiste has gone on towards greater accomplishments within the Nigerian music industry and the global front.
One of her many remarkable successes is her recent rendition of "No Woman, No Cry" for the Blank Panther sequel—Blank Panther: Wakanda Forever.
Tems whose career in the music industry has not yet crossed the 10-year mark has achieved remarkable success and a worldwide growing fanbase. As such, all of these have impacted her popularity, and of course, her pocket has also enlarged.
Tems has collaborated on various projects with influential singers like Wizkid, Khalid, Drake, and many others. Currently, her estimated net worth is earmarked at $460,000. Roughly, that's a net worth of over ₦350 million.
While Tems is focused on her musical career, the talented singer might not be paying a lot of attention to purchasing exotic cars at the moment, regardless of her growing net worth. Currently, she owns a Range Rover ride that costs ₦40 million.
The celebrity leads a private lifestyle in her house, and there's no information concerning the properties she owns. But for someone whose career has taken off and is gaining a lot of attention, influence, and wealth, there's no doubt she is investing some of that money into real estate.
Currently, she lives in Lagos, Nigeria.
Who Is Richer: Ayra Starr Or Tems?
Judging by their net worth, Tems is currently richer than Ayra Starr, with her estimated net worth of over ₦350 million. Ayra Starr, on the other hand, has a net worth that ranges between ₦20 million to ₦124 million.
Conclusion
Both Ayra Starr and Tems are remarkable talents in the Nigerian music industry. Their success has scaled towards global recognition, and there's no telling what they'll be going on to do in the future. But one thing is certain, these women are taking the music industry by storm.