I spent £53k to look like Barbie and I'm not done with Procedures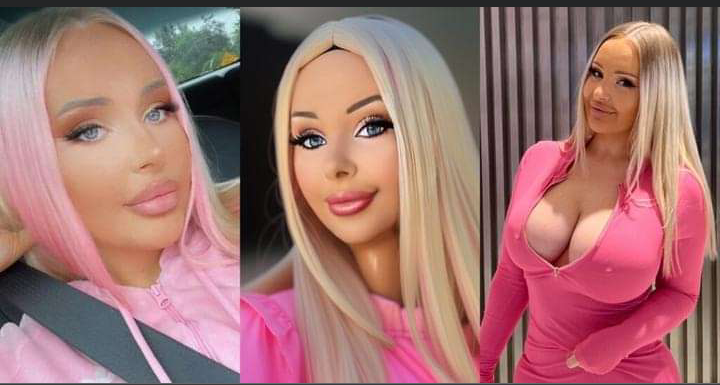 A 25yr old lady from Australia, Jazmyn Forrest has revealed that she is set to undergo another surgery to have a barbie look.
Jazmyn underwent series of surgeries like Nose Job, Lip fillers, Liposuction, Botox and Breast Augmentations.
During a Interview with The Morning show on Channel 7, Jazmyn disclosed that she had always wanted to become a barbie since she was a kid.
"Ever since I was a kid, I thought how friendly and likeable Barbie was and always wanted to look like her." She said
According to her, she spent a sum of £53k whereby she had already been planning her surgeries since she was 15 before getting to the legal age 18 to finally fulfill her dreams.
After waiting for the years to come, she underwent knife for the first time at age 18 for a breast augmentation before later undergoing liposuction all over her body to remove fat under her skin.
According to her she researched everywhere where she can undergo her procedures again, she stated she flew to "Seoul" South Korea to have a nose job and forehead reduction which it was painful but later fell in love with the healing process.
"I research, research, research, which I recommend everyone do for plastic surgery. 
"And because I researched it, it was less risky."  In April, she finally flew to Seoul to have a nose job and forehead reduction.  "It was painful but I actually like the healing process, The pain is definitely 100% worth it." She said
Her confidence after the surgery, she said;
"I feel like 'pretty privilege' is so real. 
"I feel pretty, it definitely gets you further in life. I'm just more approachable, everyone just wants to be your friend. 
"I really just feel like I want to look pretty every single day. I'm obsessed with myself now."