"Congratulations, you've seen kpekus" – Ayra Starr claps back after trolls attack her for revealing her Kpekpus at an event (Watch)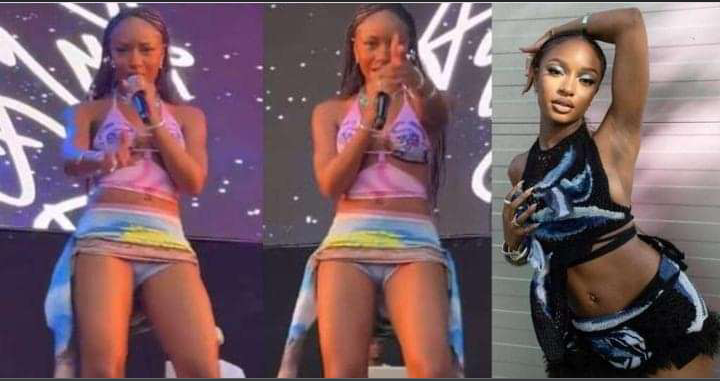 Popular Nigerian singer Oyinkansola Sarah Aderibigbe professionally known as Ayra Starr has taken to social media where she angrily slams trolls who attacked her for revealing her undies at an event.
Over some time now, Ayra Starr, the "Sability" crooner has been a subject of controversy and criticism over the way she $+xualize herself through her dressing while performing on stage at events.
However, Ayra Starr while performing at an event recently was berated by some internet users over her fashion sense as she was seen wearing a short that has the same colour with her pants.
A Twitter user identified as "Ismaeel" while reacting to the video of Ayra Starr in her short dress on stage wrote; "Must you go na*ked all in the name you want to perform on stage."
Another Twitter user identified as "soloficially" tweeted; "You can be a female singer without promoting lustful thought in the head of men and lesbians.
Ayra Starr who seems to have had enough of constant bickering and attacks reacted to the comments sarcastically, noting that what some tweeps described as underwear was actually "matching shorts."
Ayra Starr tweeted; "These are literally matching shortssss , but amazing for you ! You've seen pant ! Congratulations, you've finally achieved something in your life."
Watch the video below;
"Congratulations, you've seen Ayra Starr pant pic.twitter.com/LKxbmDS1XX

— King Beowulf (@KingBeowulf95) June 22, 2023
See other reactions that trailed Ayra Starr's dress while performing on the stage below;
unilagolodo:  I love this generation so much. If them born una well make una stress una children about indecency in future😂.
123omotola:  It's getting a little Tacky anyways….
the__real_tommy__:  "You can be a female singer without promoting lustful thoughts in the heads of men and lesbians "… oh wow I didn't know I was the general overseer and controller of your brain ! Blame your lustful thoughts on me 🤡 😂.
pam_ayy: e No ayra slander willl be tolerated.She looks beautiful and $exy in her handkerchiefss😍😍.We love her like that.
uzokat:  Kindly leave this girl alone with your venomous and bias comments and opinions. The likes of Beyoncé, Nikki Minaj and Ashanti do they not wear even more skimpy clothes and show more skin than her. Please allow her to express herself in a manner she deems fit . Enough of these subjective comments.. Let's encourage her instead..
leeeymarrrrh: But for real her own is too much but people will come with let her be in as much as she's comfortable .. Wo na her sabi.
theofficialskinnygirl:  Can these grown folks leave this child alone???! 'And WTH is it with the comment about her putting lustful thoughts in men's heads? These are the people who blame rape victims. Let the child 'BREEVE'!!