Davido's Net Worth and Latest New Cars in 2023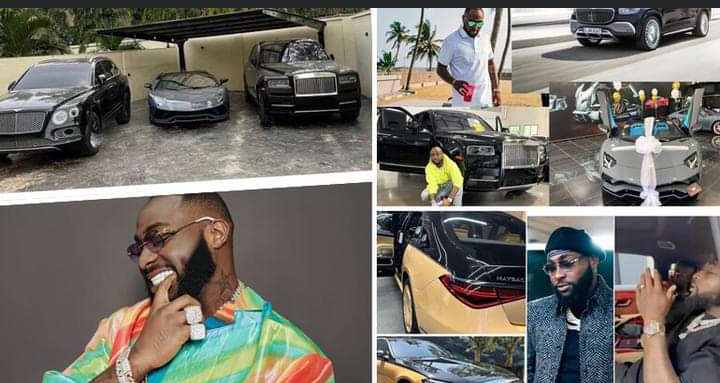 "Omo Baba Olowo" Davido is an American-born Nigerian singer, songwriter, and record producer. Davido was born in Atlanta, US, and raised in Lagos; he made his music debut as a member of the music group KB International. His latest album "Timeless" broke different records within weeks of release, Forbes Predicted that Davido will earn over $20 million from various sources in 2023 with the release of his album "Timeless".
Despite his love for luxury cars, Davido has also used his wealth and influence to give back to his community. He has donated money to various charitable causes in Nigeria, including providing scholarships to underprivileged children and supporting healthcare initiatives.
Davido's love for cars goes beyond just owning them. He has also been known to customise his cars to make them even more unique and personalised. For example, he has had his Lamborghini Huracan wrapped in a custom matte black finish, and he has also added custom rims and other modifications to his cars.
Davido has been known to drive some of the most expensive and exclusive cars in Nigeria. Some of the cars in his collection include a Rolls-Royce Cullinan, a Lamborghini Huracan, a Porsche Panamera Turbo S, a Bentley Bentayga, and many more. These cars are not only fast and stylish but also incredibly expensive, with prices ranging from millions of naira to even billions.
Here are the latest new cars Davido in recent years added to his expensive car garage
DAVIDO Bought Himself A 2023 Maybach S680 Virgil Abloh
Davido has done it again, Davido's recent comeback concert was a huge success and attracted critical praise, and his recently released fourth studio album, Timeless, has already hit #2 on Billboard's World Album chart and garnered over 2 billion streams.
Forbes reported Davido to earn over $20 million in 2023 from various sources, including royalties, brand partnerships, merchandise sales, and concert tours.
So it's not surprising for this huge purchase of 2023 Maybach S680 Virgil Abloh worth ₦450 million in Nigeria, Davido made this known to his fans via his Instagram stories.
"E choke Gone Global": Davido acquires a N900 Million Lamborghini
Davido, the head of DMW, spent more than N900 million on a brand-new Lamborghini Aventador to show that he is back in full force.
This happened just a few hours after Davido announced he was coming back to social media after taking a break since his last performance at the grand finale of the Qatar 2022 World Cup.
In the post, Davido says that the name of his fourth studio album will be "Timeless," and that it will come out on March 31, 2023.
2022 Mercedes Benz Maybach SUV
This SUV which is worth N148 million was bought earlier this year by Davido to celebrate the success of the 02 arena show which was held in London. The show was a massive success as tickets were sold out and the arena was filled to the brim.
2021 Lamborghini Aventador
Being a man who sure knows how to spoil himself with gifts, Davido bought the Aventador in December 2021 as a Christmas gift to himself after a successful 2021. The car costs N275 million.
2021 Rolls Royce Cullinan
We rise by lifting others but don't forget to reward yourself!!! WHO DEY ZUZU!! Just copped my first RR!! God is good! I'm forever grateful to y'all!!  … oh yea 2021 BTW  Davido rejoices as he acquires a 2021Rolls Royce Cullinan with a starting price of  ₦163.3 million – $340,350 Continue reading >> Davido Acquired 2021 Rolls Royce Cullinan
Davido Lamborghini Huracán
Sculptured and sensual, Huracán's design is based on the spiky hexagonal forms of the carbon atom, while the seamless roof profile is an unmistakable mark of the Lamborghini DNA. The Huracán is unique even in the dark, thanks to the alluringly "technological" light of its full-LED lighting system. This exotic mid-engine car is available as a coupe and a convertible. The car was bought for N120 million.
Davido Luxury Sprinter Bus
Davido Bentley Bentayga car with daughter
The singer bought this car after a successful '30 Billion' musical concert in 2018. Sources said that the proceeds from the concert were over N500 million so Davido decided to reward himself with  N100 million Bentley Bentyga.
Davido's Net Worth
The Nigerian singer and leader of the 30BG gang DAVIDO is another wealthy Nigerian singer with a net worth of over $90 Million. Davido owns the HKN music record with his brother and has signed many Nigerian artists.